University of Nairobi Lighting Laboratory Becomes First Accredited Off-Grid Lighting Test Lab in Africa
In an exciting development for global clean energy access, and off-grid solar market development, the University of Nairobi Lighting Laboratory (UoN-LL) is now the first lab in Africa—and one of only five worldwide—to receive ISO accreditation for quality testing for pico-PV products up to 10 watts.
Prior to its recent accreditation in April 2018, the UoN-LL, housed under the Institute of Nuclear Science & Technology, was already a Lighting Global-approved lab for market check testing of small-scale off-grid electrical systems. Through the Lighting Global program, the World Bank Group provided initial funding and technical advice to help establish the UoN-LL and support its market surveillance testing of pico-PV products sold in Africa.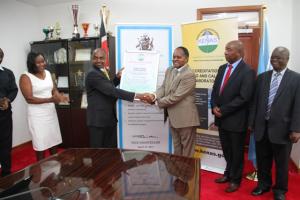 Photo from the UoN website press release. Kenya Accreditation Services (KENAS), Mr. Martin Chesire, presents the certificate to the Vice-Chancellor, UoN, Prof. Peter Mbithi.
Since then, the UoN-LL has worked closely with the Lighting Global and Lighting Africa Quality Assurance teams to become a leading laboratory in East Africa for testing off-grid solar products. With close to 65% of the sales of pico and solar home systems in Sub-Saharan Africa being sold in East Africa, market surveillance testing conducted by UoN-LL has been critical to the region's market health and development.
To date, the UoN-LL has tested more than 100 pico-PV products.
"Being the first ISO certified testing lab for pico-PV products up to 10 watts in Africa is a truly remarkable achievement for UoN-LL, and we are honored to have supported the institution in this endeavor," said Nana Asamoah Manu, the head of the Lighting Africa Kenya program. "The lab is now well positioned to provide market surveillance support within East Africa and beyond, and serve to enhance the credibility of solar as a technology that is transforming the energy landscape across Africa."
Lighting Global Quality Assurance coordinates a global network of laboratories to test off-grid lighting products across the supply chain, from the factory floor to retail shelves. Other test labs include Intertek HK in Hong Kong; Solar Lighting Laboratory The Energy and Resources Institute (TERI) in India, Schatz Energy Research Center in California, US; Shenzhen Academy of Metrology and Quality Inspection in China; and Fraunhofer Institute for Solar Energy Systems in Germany.
Read the press release from UoN-LL.