//= Titles\title(); ?>

Access to finance is arguably the most significant challenge to the off-grid solar sector; importers, retailers, and distributors all need significant working capital to be able purchase and import inventory and build a sustainable business. A lack of finance results in bottlenecks all along the supply chain, impeding businesses, thereby reducing availability and driving up prices for consumers – who are already facing their own affordability challenges.

Lighting Global undertakes a variety of activities all along the supply chain to address these barriers and support much-needed access to finance, which can increase availability and lower prices for consumers. Our focus is on scaling up successful financing instruments like results-based financing (RBF) initiatives that pay out funds to companies that reach pre-agreed targets, financing facilities like the one in Ethiopia, and unlocking commercial financing – in particular from local commercial banks. We also continue to develop innovative new avenues to address affordability, such as through our end-user subsidy lab.
Development Bank of Ethiopia Financing Facility
With an initial $20 million from the World Bank, we helped the Development Bank of Ethiopia design a fund providing a foreign exchange credit line that can be accessed by the private sector to import qualifying products, including pico-PV lanterns and SHS meeting our Standards. Microfinance institutions (MFIs) can also access this line of credit to provide loans to households seeking to make a purchase of a qualified product. As of November 2019, the credit line has successfully supported the purchase of 1.2 million solar products and provided loans through micro-finance institutions to more than 211,000 rural households, 60 percent of which are female-headed. The initial $20 million in financing was subsequently doubled due to the success of the initial fund.
Support for PAYGo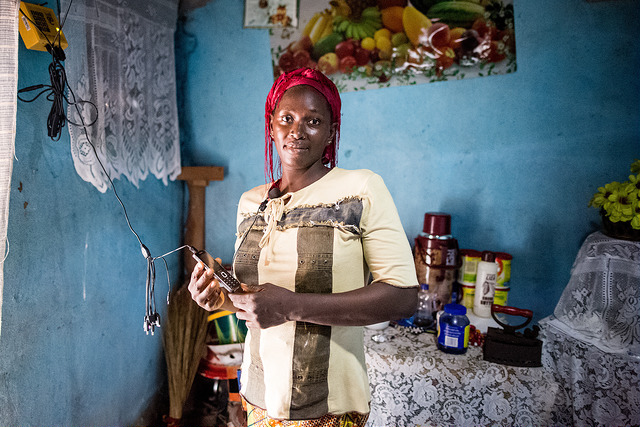 In addition to the activities we undertake to promote access to finance, many manufacturers and distributors are also unlocking financial bottlenecks by implementing pay-as-you-go (PAYGo) arrangements, making off-grid solar more affordable to households. Using the PAYGo model, consumers can pay for their pico-solar products, SHS, and related appliances in small, regular payments, most commonly by using mobile money. PAYGo increases the affordability of larger products and enables higher levels of service for consumers, and holds potential for companies to market additional products and services through their PAYGo platform.
The model carries the twin benefits of promoting payments and maintaining high quality services. If payments are not made, systems can be shut off – thereby incentivising payment compliance. Similarly, if a product fails, consumers won't continue to pay, providing a strong incentive to distributors to provide adequate and timely maintenance of their products.
From 2015 to 2020, between 25 and 30 million people worldwide gained energy access through PAYGo. Due to this significant impact, Lighting Global together with partners, including IFC and GOGLA, have developed analytical tools and services to help build investor confidence in this business model. In addition, we actively engage governments on creating a conducive enabling environment for PAYGo, thereby supporting the roll out of the business model into new markets. Read more about our support for PAYGo >
Public Funding Needed to Close the Gap
While commercial debt markets, particularly at the local level, remain largely out-of-reach to most market players, there are signs of the industry's growing financial maturity. Between 2012 and 2021, the off-grid solar sector had raised $2.3 billion in capital through debt, equity and grants, with another $457million flowing into the sector in 2021 alone. Yet, the majority of investments are going to the more established markets and companies, and there is growing recognition that more public funding will be needed to reach the lower income customers – particularly those living at the last mile or in conflict and violence affected areas. 
Since 2013 over $211million in public funding has, or is currently being, disbursed to the sector through Results-Based-Financing. But with the ESMAP Tracking SDG7 report estimating that as many as 674 million people could still be without access by 2030 under current trends  – it is clear that more is needed. Pre-COVID estimates placed the need for private and public financing in the order of $7-11 billion to reach SDG7.
Lighting Global will continue to inform World Bank lending and develop and support innovative new financing avenues to ease financial constraints. This includes the implementation of a range of public funding mechanisms that are available to governments seeking to accelerate the growth of the off-grid solar sector, to help the sector reach its potential.