//= Titles\title(); ?>
Protecting Consumers
…the up-front costs of a solar lantern – let alone a Solar Home System – are comparatively high, and most consumers simply cannot afford to purchase something that does not meet expectations, or is prone to early breakage. Meg Harper, Lighting Global Research Engineer
Off-grid lighting and energy products offer consumers many advantages over conventional alternatives, and at a lower life-cycle cost. However, the off-grid solar energy market is characterized by products with varying levels of quality and durability. Some are designed and manufactured well, while others fall short of expectations for safety, durability, and performance.
In order to protect consumers from poor-quality products and to promote consumer confidence, we developed a series of Quality Standards and testing methods for off-grid solar pico-PV and solar home systems (SHS) up to 350Wp. These Standards were adopted by the International Electrotechnical Commission (IEC) as a reference point for quality assurance of off-grid solar products (IEC Technical Specification 62257-9-5) in 2021.
By working with the sector to set quality standards, promote durable off-grid products, and adopt harmonized policies, Lighting Global Quality Assurance instilled confidence in what was once a nascent and unproven industry.
Introducing VeraSol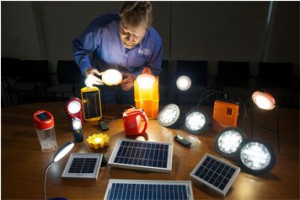 The off-grid solar energy market has changed dramatically over the course of its short history. Advancements in technology and consumer affordability have pushed the market toward larger solar systems that enable the use of higher-power appliances and productive use equipment. As consumers climb the energy staircase, the need to expand quality assurance beyond lighting and solar home systems has increased. 
To respond to these growing needs, together with CLASP and the Schatz Energy Research Center, we helped to launch VeraSol in February 2020. VeraSol builds upon the strong foundation laid by Lighting Global, and offers the same quality assurance services previously offered by Lighting Global Quality Assurance. To better serve consumers, companies, and markets, VeraSol expanded its quality assurance services to include testing off-grid appliances and productive use equipment. The program is currently developing quality standards for off-grid refrigerators, which on finalization, will enable VeraSol to offer certification for standalone solar refrigerators and refrigerators that are packaged and sold with solar energy systems under 350 Wp.
VeraSol is managed by CLASP and the Schatz Energy Research Center, long-time partners of Lighting Global and co-implementers of Lighting Global Quality Assurance since 2016. Learn more at VeraSol.
Applying Quality Standards
Our Quality Standards helped to establish a common language for how our industry communicates and set the global baseline for product quality. Buyers, governments, and institutions around the world have used our standards to protect consumers and effectively regulate the marketplace.
More than 20 national governments have adopted standards based on those created by Lighting Global in their policies. In many cases, these governments have enacted favorable policies for products that meet these standards, for example by reducing or eliminating import tariffs, meaning that consumers can purchase quality-verified products at a lower price. In other cases, quality-verified products may qualify for specific financing options, such as through bulk procurement schemes via the Rural Renewable Energy Agency in Liberia, or by accessing the Development Bank of Ethiopia's financing facility. Through adoption of our Standards and these kinds of accompanying measures, national governments are helping to boost the availability of high-quality off-grid solar lighting and energy products at an affordable price for consumers.
The UN Framework Convention on Climate Change (UNFCCC) also requires that solar lighting products meet this specification in order to qualify for carbon financing (CDM).
…Lighting Global has been a critical force in facilitating and promoting quality solar lanterns and home systems since our industry's infancy.  Lighting Global's quality assurance program catalyzed off-grid solar energy's exponential growth:  It legitimized novel technologies in the eyes of distributors' worldwide, stimulating innovation while protecting consumers and manufacturers alike from the dangers of low-quality products.  Lighting Global's work with governments in harmonizing regulations and reducing barriers to trade created a level playing field for companies and made solar energy affordable to millions of off-grid families. – Patrick Walsh, CEO, Greenlight Planet