"You Can See the Future from Here" The World Bank Solar Village
What do you think of when you imagine a village center? Most likely some sort of kiosk or market comes to mind; a place to buy essentials, and perhaps a cool drink. Maybe you imagine a larger village with a school and a medical center, both of which would draw visitors from surrounding areas – visitors who might also shop for local wares, sell goods themselves, or socialize with friends over one of the cold beverages from the kiosk.

But without a reliable electricity source, this vibrant scene can't come to life. Electricity is essential for refrigeration, to power the lights, and to run the medical equipment.

This Spring, the Lighting Global team brought a "solar village" to life in the atrium of the World Bank Headquarters in Washington DC, demonstrating all of the above applications – and many more – powered entirely through off-grid solar energy.  Together with industry partners and their products, we were able to offer an interactive experience to the roughly 500 World Bank energy professionals from around the globe that came together for our semi-annual "Energy and Extractives Week" learning event.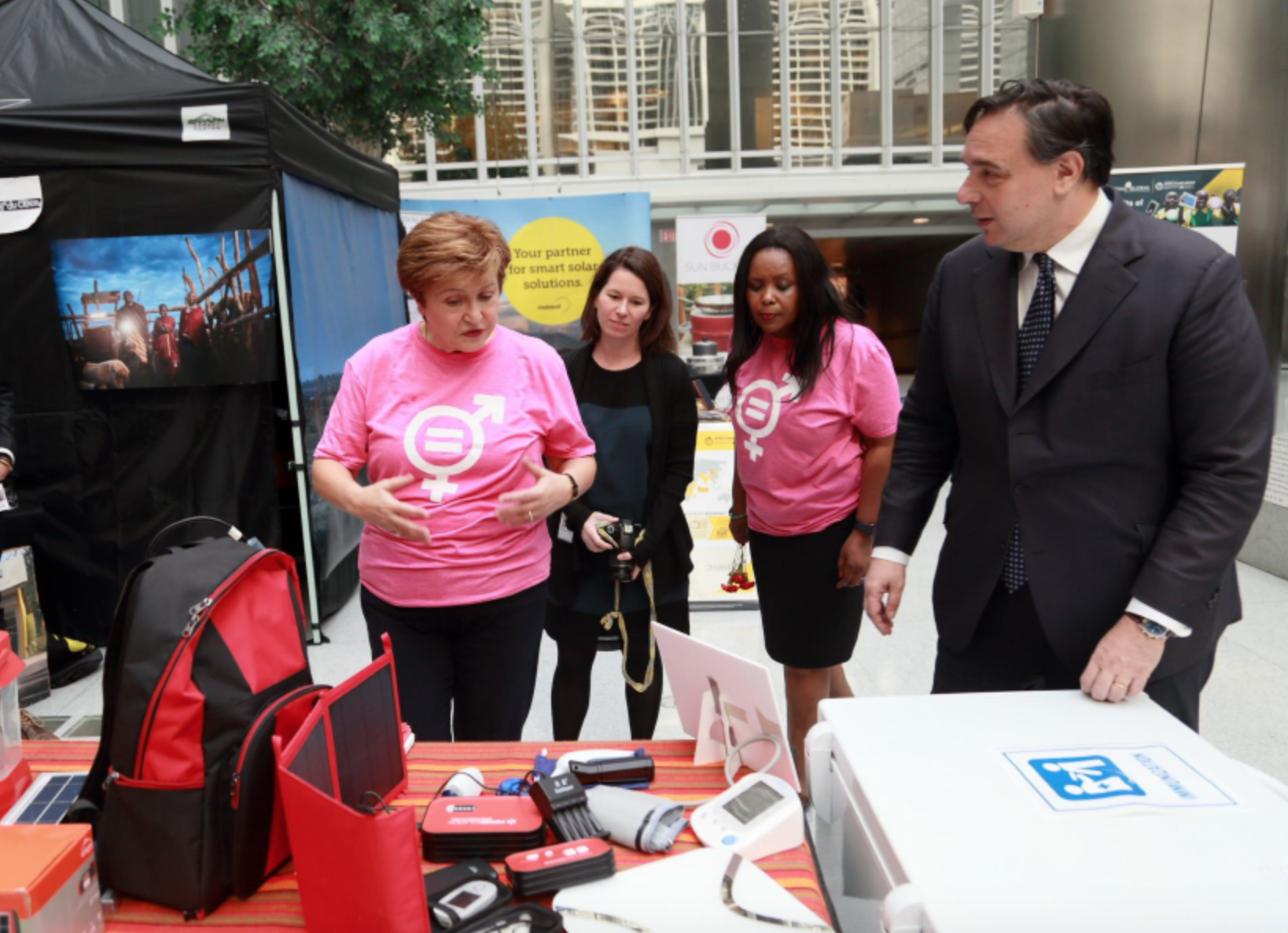 Visitors who remembered our installation from 2017, were struck – as we continuously are –  by the rapid leaps in off-grid technology. As return visitor, Riccardo Puliti, Senior Director of Energy & Extractives at the World Bank noted while touring our solar village with then-interim President of the World Bank, Kristalina Georgieva; "it's amazing, you can see the future from here."
Our Work
We are proud to be rapidly converting this image – of a future powered by clean, affordable, and reliable off-grid energy – into current reality. As a result of our support to the off-grid sector, 47.4 million people are now meeting their basic energy needs (reaching at least the first Tier 1 as defined by the Multi-Tier Framework for measuring energy access) through products meeting Lighting Global Quality Standards.

When we kicked-off our first pilot project in Kenya in 2009, our primary focus was to displace hazardous fume-emitting lighting sources with single-point solar lighting. Today, a typical plug-and-play solar home system (SHS) can power the same services that are used by grid connected neighbors. And as the technology continues to leap forward – even as prices fall – we are now expanding our focus to address energy gaps in public institutions such as schools and health centers, as well as exploring productive uses leveraging solar energy (PULSE). Our village showcased what is possible in each of these areas.

Touring the village
We presented a "rural home" in a black-out tent to help visitors get a feel for how dark a space without electricity at night truly is – and how fresh and bright the light from even a single solar lantern is in the face of that darkness. In addition to the lanterns, a number of SHS meeting Lighting Global Quality Standards powered fans, an iron, a pressure cooker, radios, TVs and charge multiple mobile phones – all items that greatly improve and ease quality of life. Our "study corner," had bright lights to read by, and Mobisol was on hand to demonstrate their TV monitor loaded with educational software – giving a glimpse into what is possible in the education sector.

Our "Clinic" featured a variety of solar lanterns, providing reliable lighting to increase safety in delivering health care after dark. Renewit also provided with a medical kit in a backpack complete with a portable solar panel to charge the equipment, while SunDanzer presented their solar-powered medical-grade refrigerator, capable of maintaining the cold chain for life-saving vaccines. Together, these products hold the power to fundamentally transform health care for those living far from the grid.

In the meanwhile, SunDanzer's commercial refrigerator kept drinks cold for sale in our village "kiosk," where visitors could also charge their cell-phones with Mobisol's multi-charger, or get a haircut with their hair clipper – demonstrating just a handful of ways in which solar power can generate income.

A real village store would have likely also sold the grain milled by Agsol's solar milling machine, and fresh-produce grown with the help of SunCulture's solar irrigation system.

The village experience was rounded out by a "cinema," with Mobisol's 32-inch TV, which could be used to broadcast a film or World Cup games to villagers. In our village, it served to showcase the data platform through which Mobisol tracks their pay-as-you-go (PAYG) customers, and as a backdrop to a virtual reality presentation of their solar welding machine (we thought that flying sparks might be a bit too life-like for the World Bank atrium).

We are truly grateful to the companies that joined us, and to the manufacturers who shared their products with us, so we could demonstrate some of possibilities that off-gird solar can unlock in even the remotest of areas. Together, we not only brought this vision of an obtainable future to life in DC – more importantly, together, we are also bringing it to life across the globe.

Our sincere thanks the teams at ESMAP and CLASP for their organizational support, and to the following manufacturers for allowing us to showcase their innovative products:
AGSOL
Bright Products!
light
Greenlight Planet – SunKing
LEMI
Mobisol
Omnivoltaic Energy Solutions
RenewIt
Sun Culture
SunDanzer