Niwa partners with Sun Transfer to Assemble Solar Products in Ethiopia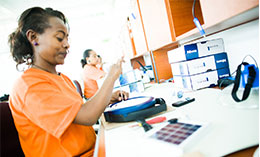 Niwa and SunTransfer have partnered to set up a company that will assemble solar products in Ethiopia. The new venture – STM Solar Technologies Manufacturing S.C. will among other things produce solar lanterns and modular solar home lighting kits.
"With the assembling in Ethiopia, we hope to increase value for consumers as well as to make it possible for Ethiopian distribution and retail companies to purchase the most advanced solar products in local currency," says Ti el Attar, Founder and Executive Director of Niwa.
Niwa, manufacturer of the Uno 50 task light, the Multi 100 plus and Multi 300 lighting products, brings to the partnership its production and quality control expertise amassed from managing solar production facilities in China and Hong Kong.
Niwa has trained and built capacity of local staff, passing on their knowledge and expertise in order to achieve the same performance and high international quality standards of the products assembled in Ethiopia.
The assembly plant will help the two companies improve product supply and availability, and scale up distribution. Through the partnership, local warehouses have been built to enable customers to flexibly purchase product supplies without having to step into the importer role with its significant financing, logistics and time constraints, says Mr el Attar.
Sun Transfer, on its part, will bring about 10 years of work experience in Ethiopia and a national network of Solar Centers where consumers are taught how to install and use products. The Solar Centers also provide consumer credit and after-sales service and maintenance support over the full product life-cycle.
"Ours is a unique collaboration for Africa's second largest solar market and a new level of commitment to the local people," says Ti el Attar.
More than 85 percent of rural households in Ethiopia rely on fuel-based light sources, predominantly kerosene. On average, rural households use kerosene lighting for 3 hours per day and spend about US$2 per month on kerosene.