Innovative Rural Employers Keep Pace with Employee Needs
"I was buying a full jerry can [of kerosene] costing Ksh 600/- ($ 6.40) for my father and mum every month, only for them to see.  Then my brother's children were coming to my mother's house to study," said Rebecca Muthiani, employee of Tambuzi Farm in Nanyuki, Kenya whose income supports a large extended family.  With the cost of living in Kenya rising, large scale rural employers are thinking of innovative solutions to alleviate financial pressure on employees, arranging loans to make products such as good quality portable solar lanterns affordable to all.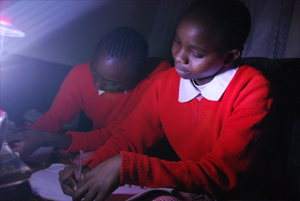 Girls completing homework under a LED light © Jamie Seno/Lighting Africa
Bringing solar lanterns into employee homes
A year ago, Maggie Hobbs, director of the Tambuzi flower farm, which is located in an area with no grid electrification, attended a Lighting Africa conference in Nairobi.  She was particularly interested in the fact that many products had undergone quality testing carried out independently by Lighting Africa.  Once she was assured that there were good quality portable solar lanterns available in the marketplace, that can provide clean, sustainable, bright light in the home, she was determined to try to give all her 225 employees access to these products.
 After the conference, Maggie arranged to take a sample product from each of the eight category winners from the 2010 Lighting Africa Outstanding Product Awards Competition and, together with her employees, undertook home testing.  Upon seeing the products, the farm employees were all keen to switch from kerosene to solar lighting.  They unanimously voted for one product, the Barefoot Powapack 5, making it possible for Maggie to negotiate a reduced price for a large order.
She also approached the Waitrose Foundation, the farm's main UK client, which provided a subsidy of Ksh 2,000/- ($18) for each unit sold.  The final subsidized selling price of each Barefoot Power Powapack 5 was Ksh 3,000, which employees paid back at a rate of  Ksh 250/- per month over one year, some opting to pay back more quickly.  Each solar kit comprises four lanterns, one solar panel and a battery that can recharge a mobile phone and run a radio.
"We have never had a CSR [corporate social responsibility] project as successful as this, that truly addresses the issue and by saving on the cost of kerosene and phone charging, ultimately puts cash back into employees pockets," Maggie said.
Tambuzi Farm is currently rolling out the second phase of the initiative, this time offering employees the choice of buying subsidized bicycles, water tanks, iron sheets (mbati) or solar lanterns on manageable repayment terms.  Half of the employees have chosen to buy additional solar lamps for family and friends.
Lighting up rural areas
Rebecca Muthiani, Production Manager at Tambuzi Farm, has so far bought a set for herself and five more Powapack units for her extended family many miles away in Nyara District, Eastern Kenya. "In my village they are asking me for them.  The whole village is calling me every day.  By the time I get money, I buy another one."
Investing in Education
Maggie Hobbs also found donors to purchase the Greenlight Planet Sun King solar powered portable task lights for all ten teachers at Mukuri school and each of the 25 students in year 8 who are preparing for exams to graduate to secondary level.
"They (the students) used to come early in the morning to do homework before school.  These days they come ready," said Stephen Mwangi, headmaster of Mukuri School. The task lights are now school property. The students charge them each day on the school premises and then take them home at night to study. The plan is to hand the lamps on to the next group of year 8 students in January 2011.
Tambuzi Farm also provides these students with prep diaries, which are signed off by their parents every day, in order to supervise their homework. Since the initiative started, the school has seen an improvement in the year 8 students' grades.
"I am seeing a great, great change," Mr. Mwangi said. "It would be good to see this project extended to year 6 or 7."  Currently the lantern is used by siblings at home, so already each lamp is benefiting more than one student. Another 265 pupils are enrolled at the school, the majority without access to the grid.
The example of Tambuzi Farm shows that the initiative had a bigger impact than first imagined, improving the lives not only of the students, but of the wider community.