IFC, World Bank Lighting Programs Improve Energy Access for 47m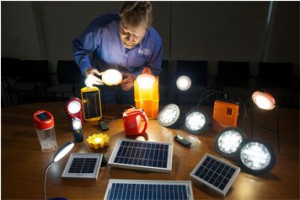 About
47.7 million
people without access to the grid now benefit from modern energy services as a result of having purchased solar-powered lighting products supported by the Lighting Africa, Lighting Asia, Lighting Pacific and Lighting Global programs.
Under the new Sustainable Energy for All Reporting Framework, this corresponds to more than 20 million people receiving basic (Tier 1) energy services from Lighting Global Quality-Verified products.
These people previously relied on expensive and dirty biomass fuels such as kerosene and wood, candles, or dry cell batteries for their daily energy needs. Now with modern solar-powered lighting products, they are saving money while enjoying clean lighting, and many are able to also charge their phones for free.
In addition to the economic benefits, this shift provides multiple health and safety benefits from avoided house fires and reduced respiratory diseases associated with indoor air pollution from open fires. Further, the solar devices are responsible for eliminating 1.0 million tons of the polluting greenhouse gases per year.
The future looks yet brighter as an ever expanding range of solar-powered high-efficiency home appliances enter this growing market, promising to significantly broaden the range of energy services available to off-grid households.
The World Bank Group market development programs, operating under the Lighting Global umbrella program, are also scaling up their support to include
solar home systems
, including an expanded
quality assurance framework
that now includes larger (up to 100 watt)plug and play kits.
Pioneered in the World Bank Group's Lighting Africa program, the Lighting Global Quality Standards,have been
widely accepted
by the industry and adopted by the IEC (International Electrotechnical Commission) as the global standard.
Lighting Africa is currently active in more than
10 countries
,where more than
35million people
have now benefited from modern energy services provided by Lighting Global quality-verified products.
Building on this success, IFC now works with the solar off-grid energy services industry to develop Asian markets through Lighting Asia, which operates in
India
,
Bangladesh
and
Pakistan
. In the Pacific region, the program is underway in Papua New Guinea.
The programs work with manufacturers, distributors and others across the supply chain to bring affordable quality-verified modern solar products to market. Currently more than 50 quality-verified
products
made by more than 25 companies are actively sold in the global market.