IFC Launches Lighting Pakistan Program to Help Bring Affordable Solar Lighting to 1.5 Million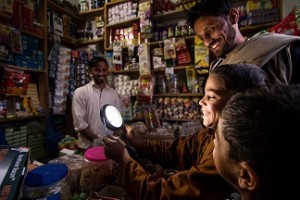 IFC, a member of the World Bank Group, has launched the Lighting Pakistan program to help provide safe, affordable, high quality lighting to more than a million Pakistanis, easing the country's energy crisis.
About 35 percent of the 197 million population is not connected to grid electricity, while half of those connected experience an average of 12 hours of load shedding every day, accentuating the need for sustainable sources of alternative energy.
A consumer insight study undertaken prior to the program launch found that nearly 145 million people in the country are severely impacted by the energy crisis. The
Pakistan Off-Grid Lighting Consumer Perceptions Study
, released on May 14, 2015, interviewed more than 6,000 Pakistani households.
"Controlling Pakistan's energy crisis is the top priority of the government and IFC's program will ease the burden on the national grid and help millions of people access lighting," said Senator Mohammad Ishaq Dar, Federal Minister of Finance. "IFC's focus on quality lighting products is supported by the Government of Pakistan. We are in the process of adopting quality standards for the import of solar products to ensure Pakistani consumers are protected from poor quality products."
Nadeem Siddiqui, IFC Country Manager in Pakistan, said: "Lighting Pakistan, which aims to reach 1.5 million people, is part of IFC's strategy of promoting inclusive electrification in Pakistan, and is an important part of our broader approach of targeted interventions in the power sector."
"The report shows that many Pakistani households rely on an expensive and low-quality mix of battery powered torches, kerosene, and candles that do not meet their lighting needs and burns a hole in their pockets," said Liam Grealish, Program Manager, Lighting Pakistan. "The Lighting Pakistan program will help raise awareness amongst these households about alternatives including quality solar-powered lighting products."
The Lighting Pakistan program is supported by IFC's development partners UKAID and Australia AID. It is part of Lighting Global, a joint effort between IFC and the World Bank under the Sustainable Energy for All initiative (SE4All).
The program is the third in Asia, after India and Bangladesh, where IFC is spearheading the development of markets of clean off-grid energy solutions. IFC is also supporting the development of markets for clean energy solutions in Papua New Guinea after great success in Africa, where the Lighting Africa program is active in more than 10 countries.