fosera Expands Operations in Africa with Third Assembly Line in Kenya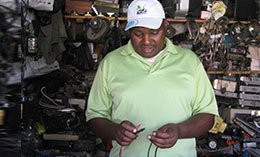 German manufacturer of solar lighting products, fosera, has opened a product assembly line in Kenya in partnership with a local manufacturer of solar panels, Ubbink East Africa.
This is fosera's third assembly line for modern off-grid solar lighting products in Africa, after Mozambique and Ethiopia.
"We are committed to bringing high quality solar products as close to consumers as possible in order to effectively meet their energy needs," says Catherine Adelmann, the General Manager of Fosera.
The company, which markets the portable Scandle 200 and the Pico Solar Home System 7000, opened its first product assembly line in 2012 in Maputo, Mozambique and subsequently another in Ethiopia.
In its expansion, fosera plans to set up additional local assembly lines in its key markets in order to increase its impact on off-grid societies and economies by means of technology transfer, training, job creation and reduction of greenhouse gas emissions.
In establishing its local assembly lines, the company strives to positively impact the environment, society and local economies through capacity building, job creation and spurring in-country development of the fast growing renewable energy sector.
fosera is also committed to high quality and affordable products for low-income rural consumers and develops its products to meet the Lighting Global Quality Standards for off-grid lighting.
Earlier this year fosera emerged winner in the inaugural Outstanding Off-Grid Appliance Awards competition run by the Global Lighting and Energy Access Partnership, (Global LEAP) for its solar powered television set.