Fifth Omnivoltaic Product Meets Lighting Global Standards
Omnivoltaic Power Co. Ltd has released a fifth solar-powered lighting product that meets the Lighting Global Quality Standards.
The ovPilot X can provide bright light of 74 lumens for over 8 hours following a single day of charging in the sun. It comes with two settings that allow users to adjust the brightness as desired, while a third "flashing" setting can be used to signal an emergency.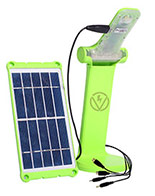 This small, portable task light also offers mobile phone charging, and as with all other quality-verified Omnivoltaic products, is covered by a two-year warranty.
The other Omnivoiltaic products that meet the Lighting Global Quality Standards are the ovBeacon MB2-090, ovBeacon MB2-200, ovBeacon MB2-290, and ovBeacon MB2-380, which previously marketed under the name Marathoner Beacon.
The ovBeacon MB2-090 and MB2-380 won the Lighting Global Outstanding Product Awards in 2012.