d.light's Solar Home System Brings Clean Light to 650,000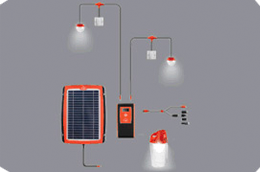 d.light, manufacturer and distributor of off-grid solar lighting products, has reported record sales of its expandable D Series solar home lighting systems.
The D20, the first d.light D Series product to have met the minimum quality standards  for off-grid lights comes with two mountable lamps and a portable lantern, and can be power an additional two lamps.
The product, which can simultaneously light up to five rooms in a home or small business, charges mobile phones and comes with wall switches aimed at giving consumers a grid-like experience.
d.light reports achieving sales in excess of 125,000 units of the solar home lighting system since its launch in 2012. This product has enabled some 650,000 people in Africa and Asia to access affordable, clean, better quality lighting.
"In hitting our 125,000 unit milestone, we've sold nearly as many solar home systems in the developing world as were sold in the US in 2013, while helping our customers save over US$80 million energy related expenses," says d.light Chairman and CEO, Donn Tice.
d.light's products are designed for consumers in areas not connected to grid electricity, most of whom are typically low-income earners living in rural and peri-urban areas.
The company, with products currently retailing in more than 60 countries, has to date sold more than six million units across the world enabling about 30 million people to enjoy clean, higher quality lighting.
d.light, whose founders were in March among 37 outstanding persons named the 2014 Social Entrepreneurs of the Year , is working at reaching 50 million people without access to electricity with clean affordable lighting by 2015, with a target to double this number to 100 million by 2020.
The D20 solar home lighting system is also one of a few off-grid lighting products currently offering low-income consumers the option of buying the product on credit using the pay-as-you-go (PAYG) model.
About half of its sales (60,000 units) were made through the innovative mobile payment platform M-Kopa Solar .
"The success of the D Series is attributable to innovations both in product design and financing. d.light's flagship D20 is designed to work with any kind of payment system. Flexible systems like the D Series are essential to accelerate universal energy access in the developing world," says Donn Tice.