d.light Founder Wins National Peace Corps 2011 Shriver Award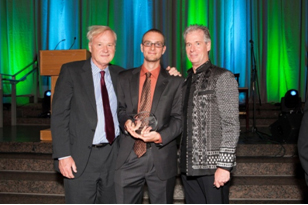 Sam Goldman, founder of d.light Design, won this year's National Peace Corps Association (NPCA) Sargent Shriver Award for Distinguished Humanitarian Service, including a $1,000 award at the Promise of the Peace Corps Gala held on September 24, 2011 in Washington, DC.
The Sargent Shriver Award for Distinguished Humanitarian Service is awarded by the National Peace Corps Association to a Returned Peace Corps Volunteer who continues to make a sustained and distinguished contribution to humanitarian causes at home or abroad or is an innovative social entrepreneur whose actions will bring about significant long-term change.  Sargent Shriver was the first Peace Corps Director and Founder.
Sam Goldman was nominated for his success and innovation as a social entrepreneur who is changing the world through his start-up, d.light design (www.dlightdesign.com), which aims to improve the quality of life of 50 million people by 2015 and 100 million people by 2020, by replacing every kerosene lantern with clean, safe, and bright light. d.light works to enable households without reliable electricity to attain the same quality of life as those with electricity.
The idea for d.light design spawned from an unfortunate experience Sam witnessed while serving as a Peace Corps volunteer (2001-2005) in Guinagourou, Benin, when the son of a neighbor was badly burned by a kerosene lamp. It was enough to convince Sam to dedicate himself to finding ways to help people in the developing world get safer and improved lighting. After finishing his service and becoming a student at Stanford Business School, d.light was created.
"The traits which brought Sam Goldman to the forefront were great ingenuity and a true global perspective," said David Schweidenback, one of this year's judges and a previous Shriver Award winner.
"Sam Goldman and his colleagues at d.light exemplify the spirit of Sargent Shriver," said president of the National Peace Corps Association, Kevin Quigley. "They are practical idealists, marrying a big goal with an even larger vision:  a world with safe, clean and affordable lighting for all."
d.light is an Lighting Africa Associate.
Go to d.light's website: https://www.dlightdesign.com/home_global.php
Learn more about past Shriver Award Recipients: https://www.peacecorpsconnect.org/about/awards/the-sargent-shriver-award/
Story adapted from: https://www.peacecorpsconnect.org/2011/10/social-entrepreneur-sam-goldman-wins-the-shriver-award/