Announcing the First-Ever Key Performance Indicator Framework for the Off Grid Solar Pay-As-You-Go Sector
Story Highlights:
The Distributed Energy Service Company sector is growing rapidly, especially the segments that use a variation of the Pay-As-You-Go (PAYG) business model, which alone has provided more than 700,000 connections over the last six years in East Africa.
PAYG business models are capital intensive and require significant amounts of working capital to scale. While the PAYG industry has raised over USD 300 million capital since 2012, commercial level capital is still needed to finance the increasing capital demands of the sector.
The off-grid solar sector was recently subject of intense public debate, highlighting mismatched expectations for growth, and/or misinterpreted social or economic impacts. When questioned about what could help increase transparency and manage perceptions of risk, both PAYG companies and investors highlighted the need for harmonized data and reporting standards.
Together with GOGLA, Lighting Global has developed a KPI framework to leverage data and advanced analytics to improve information flow between investors and companies by establishing standardized performance definitions and reporting standards.
With over 1 billion people worldwide without electricity, achieving the UN's Sustainable Development Goal #7—ensuring access to affordable, reliable, sustainable and modern energy for all by 2030—is more important than ever. While governments are working on improving and extending the national grid, alternative business models and technology options are likely to play a larger role in reaching off-grid areas.
PAYG solar product providers have shown impressive market growth over the last few years. These companies fit within the broader classification of distributed energy service (DESCO) companies, and deploy various lease-to-own or direct pay-per-use business models. Through the use of digital and Information and Communication Technology (ICT) platforms, PAYG companies are able to offer accessible and flexible payment plans to customers that typically do not have credit histories or bank accounts. With just a cell phone and a mobile wallet, customers are now able to pay for energy as they go, and benefit from electricity to light their house, charge their cell phones, and power essential appliances and electronics.
Given the capital-intensive nature of their business models, PAYG companies require a significant amount of working capital to support their growth. The sector was initially financed through grants, as well as other types of concessional financing provided by impact investors and various development finance institutions. Today, however, the demand for working capital and commercial investment in the PAYG industry clearly outweighs its supply. Recent opinion pieces shed light on some of the underlying issues that continue to block effective investments in the sector, including investors' mismatched expectations and lack of familiarity with the nuances of the different PAYG business models.
To increase awareness of the different operational and business model performance levels of PAYG companies, a joint World Bank-IFC team, together with the Global Off-Grid Lighting Association (GOGLA), have developed a KPI framework for the sector. In addition to increasing transparency, the framework seeks to expand market data availability and reliability, and ultimately enable a more robust understanding of the sector by using data analytics.
After interviewing various companies, investors and donors that are active in the sector, three key factors surfaced that underpin the necessity to establish the KPI Framework:
1. The PAYG industry is a growing sector in need of higher levels of commercial capital
Despite its large potential for growth, the PAYG sector continues to face significant hurdles in accessing commercial capital. According to a Bloomberg New Energy Finance (BNEF) white paper, existing PAYG companies may require an average of USD 50 million each to support their operational needs for the next two to three years—widely exceeding the levels of capital that are currently available.
2. The lack of industry data and reporting standards is keeping investors from entering the sector
Investors confirmed that the lack of available and comparable validated data metrics across the PAYG industry is one of the barriers delaying or limiting investments. In fact, during a round-table consultation, over 20 investors shared three common barriers: (i) the few years of operational history among companies makes it difficult to project how they will perform in the future, (ii) the lack of verified performance data increases the time they need to spend in analyzing a deal, and (iii) the still-evolving business models in the sector make it very difficult to compare companies and identify performance drivers, among other need-to-know insights.
3. Investors want a standardized due diligence process, and companies are willing to provide the data
While investors will – and should – continue to perform their in-house investment assessments, the KPI Framework will help to improve information flow between investors and companies in the PAYG industry by establishing standardized definitions and reporting standards. Given the continuously changing business models of PAYG companies, the KPI framework is not meant to be a scorecard of a company's operational performance, but rather a more structured mechanism to periodically assess the portfolio health of a company and its customer base, taking into consideration the many business models deployed. Each of the KPIs is defined across a portfolio of PAYG solar assets, generally a cohort in time, contained within a single country or region. Indicators are defined at a point in time, and measuring the KPIs on a periodic basis (monthly or quarterly) helps monitor performance over time.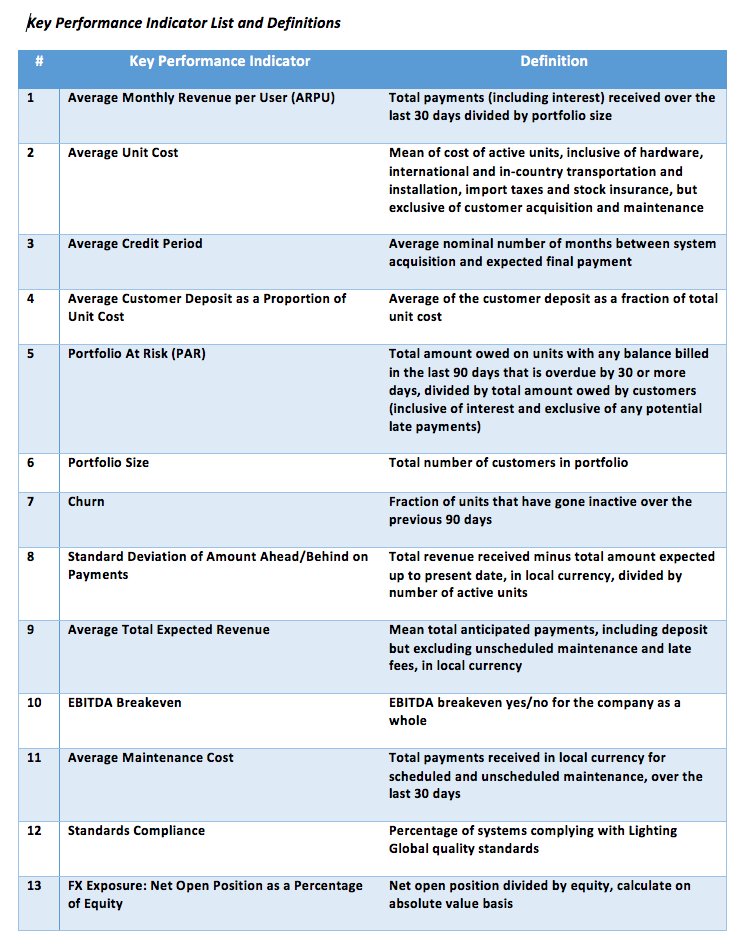 The first iteration of the KPI framework is now released. However, learning from best practices of other industries – like microfinance or impact investment – the framework and its indicators will be continuously updated. Today, the KPI Framework targets core aspects contributing to real or perceived investment risk, as identified by investors and international experts. Once its use is mainstreamed, investors will be able to compare performance across companies, increase the robustness of the investment process, design more appropriate financial instruments and, as needed, increase the amount of deployable finance available for companies. The KPI framework is also expected to contribute towards strengthening the operating performance of firms in the off-grid solar sector by not only developing standardized tools and economies of scale, but also improving their customer targeting and credit risk assessment capabilities.
Moving forward, the joint Lighting Global – GOGLA team will develop a PAYG company taxonomy to accompany the KPI framework, to continue to test data and improve the robustness of the KPIs and to explore further use of data analytics and data sharing for the benefit of the industry.



In addition to resources from GOGLA and Lighting Global, this work has been financed by three World Bank Units: The Energy Sector Management Assistance Program (ESMAP), a global knowledge and technical assistance program administered by the World Bank, Launchpad, a Clean Technology Program activity of the Trade and Competitiveness Global Practice, and by the Transport and ICT Global Practice.
Learn More:
Overview of PAYG KPI Effort

Download the Technical Guide for the KPI Framework