World's Largest Solar Home System Program Adopts Lighting Global Quality Standards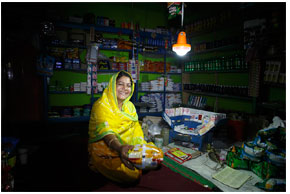 The World's largest Solar Home System program, in Bangladesh, has adopted the Lighting Global Quality Standards for pico-PV products.
This means importers, distributors and retailers of solar lighting products whose quality has been verified using the Lighting Global testing methods will not be subjected to additional tests once they land in Bangladesh.
"Testing and verification activities carried out by Lighting Global were found satisfactory to the Technical Standards Committee (TSC). According to the TSC, [the] testing framework of the Lighting Global program fulfills the requirements of IDCOL standards," says Mr. Enamul Karim Pavel, head of the Renewable Energy Department of the Infrastructure Development Company Ltd (IDCOL).
IDCOL will therefore not require further local test reports, but will require suppliers to provide valid test reports from the
testing laboratory network
of Lighting Global program.
With financing from the World Bank,
IDCOL
, in partnership with NGOs and private businesses, is implementing an off-grid energy access program that entails installing solar home systems (SHS) in rural areas of Bangladesh that are not connected to the electricity grid.
The IDCOL SHS program,acclaimed as the
fastest growing
, connects an average of 50,000 households to off-grid electricity every month. The program, initiated in 2003 and now in its second phase, has increased national access to electricity by 6%.
"As an important market for modern solar lighting products and systems, Bangladesh's acceptance to work with quality-verified products tested by Lighting Global and its worldwide network of laboratories is a crucial piece to building sustainable markets for modern energy," says Russell Sturm, the Head of Energy Access at the International Finance Corporation (IFC), a member of the World Bank Group.
IFC, in partnership with GIZ, launched the
Lighting Bangladesh
program late last year to avail an affordable range of modern pico-solar lighting products for people living at the base of the pyramid.
The Lighting Global quality standards were adopted by the
IEC
in April 2013 and are now accepted internationally as the industry standard for off-grid lighting.Every
product
tested by Lighting Global and found to meet the quality standards is issued a Standard Specs Sheet and a quality verification letter to facilitate importation.
"The acceptance by Bangladesh of the Lighting Global quality standards is an important milestone for the nascent off-grid energy sub-sector that suffered market spoilage from poor quality products in its early stages," says Dr Arne Jacobson, who head the Quality Assurance work of Lighting Global.
Lighting Global is currently at an advanced stage of developing quality standards for direct current
plug-and-play solar home systems
.
You can learn more about the IDCOL and Lighting Global quality assurance frameworks
here
.