'Word of Honor' secures loans for solar lights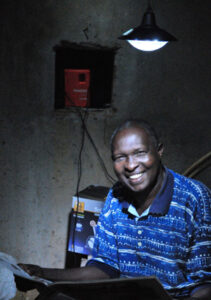 For rural communities without electricity, lighting the home can be costly and challenging.  Although well priced solar products are available on the market, their cost is often beyond the reach of many rural consumers.
The NGO Appropriate Rural Technology Institute of Tanzania (ARTI-TZ) has figured out how to provide credit to help rural consumers buy solar lamps.
Using a system known as Mali Kauliâ (Word of Honor, in Swahili), the NGO is providing village-level credit to enable families invest in solar lighting products using their word as security for loan repayment.
The NGO encourages beneficiaries to repay their loans using the savings made from no longer having to buy kerosene.
This credit system has been in use in Tanzania and has helped poor families buy bicycles, corrugated roofing iron sheets, cement, seeds and fertilizers.
The Mali Kauliâ system is already in place and is well known to consumers.  Customers are keen to pay back what they owe in order to get more credit to buy yet more products, says Nachiket Potnis, CEO of ARTI-TZ.
ARTI-TZ's Mali Kauli solar lamps distribution strategy was piloted in Bagamoyo, but has since been rolled out to other parts of Tanzania.
The NGO is supplying more than 13 dealers and wholesalers with Barefoot Power solar lighting products, as well as working with savings and credit cooperative societies and other microfinance institutions to ensure suppliers can access finance to meet consumer demands.
ARTI-TZ is one of ten grant recipients of the Lighting Rural Tanzania (LRT). LRT is a grant competition organized by the Tanzania Rural Energy Agency, with support from the World Bank and Lighting Africa that promotes innovative business models for the provision of off-grid lighting to rural Tanzania.