Webinar On 15 November: Upcoming Changes To Lighting Global Quality Assurance Framework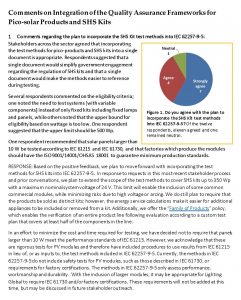 We are now working to integrate the test methods for pico-products and SHS kits into a single quality assurance framework that covers off-grid energy kits with PV power up to 350 W.
In June 2016, we requested feedback on our initial proposal and received multiple comments from twelve stakeholders and organizations that helped improve the proposed framework. We believe the proposed framework will create a unified set of test methods, institutionalized as IEC/TS 62257-9-5, that can more easily be maintained and will ensure a more efficient and appropriate testing process.
We invite you to continue to participate and learn about the upcoming changes to the Quality Assurance framework:
Review the feedback document, which outlines proposed changes and provides responses to stakeholder comments
Attend the stakeholder webinar, co-hosted by GOGLA:
Upcoming Changes to Lighting Global Quality Assurance Framework
Tuesday, November 15
6:30 PM EAT / 3:30 PM GMT / 10:30 AM EST / 7:30 AM PST
Click this link to join: https://global.gotomeeting.com/join/659192781
If you have any questions, please contact qa@lightingglobal.org.