WEBINAR | Making Sense of Pay-as-You-Go Solar Business Models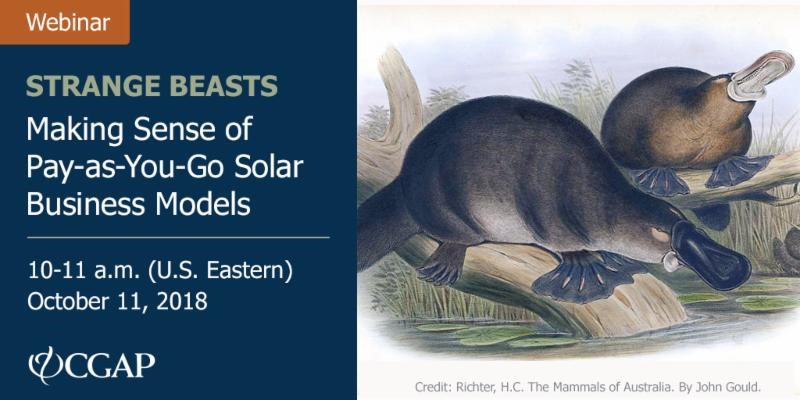 Much like a platypus, a pay-as-you-go (PAYGo) solar company can be hard to classify. PAYGo companies combine elements of modern electric utilities that provide clean energy services, retailers that sell durable goods through diverse distribution channels, and financial institutions that provide leasing to make valuable assets affordable for low-income customers. Confusion about PAYGo business models and how to evaluate these companies' performance has been a challenge for investors and donors, and even for PAYGo companies themselves.
Join CGAP and the International Finance Corporation (IFC) for a webinar to explore the unique operational, strategic and especially financial analysis challenges of the PAYGo solar business model. Presenters will summarize findings from the CGAP-IFC paper "Strange Beasts: Making Sense of PAYGo Business Models" before leading a discussion with a co-founder of M-KOPA Solar and an expert in financial analysis and accounting from NYU's Stern School of Business about the implications for investors and PAYGo companies.
Thursday, October 11, 2018
10 – 11 a.m. (U.S. Eastern Time) 
CLICK HERE TO SEE THE FULL LIST OF SPEAKERS
CLICK HERE TO REGISTER FOR THE WEBINAR