Training technicians: Completing the market responsiveness circle
Lighting Africa has begun training first-line technicians to provide after-sales service and maintenance to solar lighting products retailing in Kenya and Ghana.
The program will train more than 100 technicians to be based in 10 of Kenyas major towns, and in six of Ghanas key cities.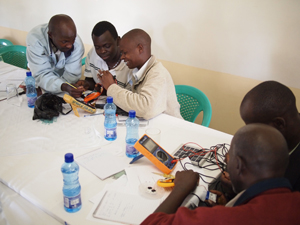 The technicians are being trained on the basics of modular solar lighting kits, the common reported problems and how to fix them, in a bid to assure consumers that solar lanterns are serviceable once acquired.
This initiative is a direct response to consumer demands for after-sales service of solar lighting products, and first-aid technical backup to manufacturers and distributors to avoid sending back perfectly good products that have not been used according to instructions, says Nana Asamoah-Manu, Lighting Africas Kenya Country Manager.
He says about 90 percent of product complaints and returns from consumers had been found to arise due to very simple operational failures on the part of consumers.
Most common failures arise as a result of not charging lantern batteries as required such that they fully discharge, necessitating kick-start charging of the battery with energy sources other than solar.
Also common was the placement of solar panels in places not receiving direct sunlight such that lamp batteries are not fully charged and therefore not providing the advertised duration and intensity of lighting.
Wrong connections and assembly of the various components of solar lighting kits were also found to be a reason for complaints on product performance among customers.
It has become clear that some first aid action could well resolve between 50 and 60 percent of customer complaints, and greatly improves the overall value of the product,says Asamoah-Manu.
Lighting Africa is working with technicians skilled in repairing electronic devices such as mobile phones, television and radio sets, and showing them how to operate, diagnose and repair modern lighting kits.
The program is also in talks with other stakeholders in the industry with similar technician training programs in a bid to evolve national training curricula.