The sun lights up rural Ghana's dark nights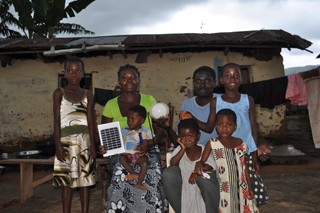 Mr Joseph Danquah is usually a very busy man being the only carpenter in his village, Nimforkrom, which is located some distance away from Sunyani, the capital town of Ghana's Brong Ahafo Region.
If daylight were extended to 16 hours per day, he and his family would be able to get so much more done. He often has to defer work he could have completed in the evenings to the next day because of darkness.
"My wife, a baker, wakes up around 4am to get her dough ready for baking. She sells her bread at night with tea using a bobo (kerosene lamp). We all try to do as much as we can when there is daylight," the father of five girls says.
In the evenings, his children study using a kerosene lantern while he and his wife prefer to use candles because "we are not as careless as the kids."
His village, Nimforkrom, has no electricity. The only light this village knows is sunlight. Once the sun sets, life comes to a near standstill.
"Even our little midwifery has no lights! We manage only by prayers," he states. "All my children for instance were born during the day, but my brother's son was born at night and it was scary! The fumes from the lanterns that we inhaled! And not to mention the poor lighting the midwife was forced to use! It was not easy at all."
All he wishes for is light! He complains of the health implications of kerosene fumes for his children; and the high cost of buying kerosene, candles and matchboxes, as well as the time lost in not being able to do any work in the evening.
When a Lighting Africa team visited him in June and provided his homestead with some solar lanterns, he could not believe that the sun could light up his home at night.
The Lighting Africa team visited Nimforkrom village as part of a 15-week consumer education campaign that kicked off in April and has since visited 225 villages without electricity. The campaign has run road shows in 150 rural markets and 75 community forums to demonstrate what solar lanterns are available in Ghana, and how they work.
A follow-up visit to Mr Danquah's household a week later found a transformed homestead abuzz with life; Children were playing under a well-lit tree, while three old men sat chatting over an evening drink with their own solar lantern.
"Solar has changed me, and my family's life. Now we have a life too; my children study with solar lamps and they do not have to inhale fumes from kerosene lanterns. They no longer strain their eyes," he says. "Now we have been brought out of darkness to the light."
He had acquired a mobile phone which he charged using solar, and was able to listen to news on the phone radio.
"As for me, all I can say is thank you," says his wife Comfort Atse. "Solar has made business good. Now I sell late into the night and I make more money. No more bobo and kerosene oh! Only Awiah light!"