Tell Stories of Energy Poverty and Get Rewarded!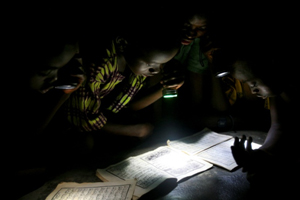 Peter DiCampo's Life Without Lights photography in Northern Ghana, Kurdistan in Northern Iraq and New Mexico, USA, reveals how energy poverty affects people's lives and hampers development.
His work will be exhibited as part of the UN-Energy exhibitions in the Rio+20 United Nations Conference on Sustainable Development (UNCSD), which is taking place June 20-22, 2012 in Brazil and you now have an opportunity to join him in telling the stories of energy poverty to policy and decision makers.
You can make a donation to fund the next chapters of Life Without Lights and have your company named as a project sponsor at UN exhibitions in Rio+20 and other policy meetings that will be marking 2012 – the International Year of Sustainable Energy for All.
"During the two years I lived and volunteered in remote northern Ghana, I discovered how deeply the lack of electricity affected the lives of my neighbors,"says Peter. "Having it, they explained, would allow them light to study and cook with, machinery, refrigeration, and a standard of living that would attract teachers, nurses, and other civil service workers from the city. My photos share their stories."
By making a contribution to the project, you contribute to bringing these stories to the highest policy level.
More information:
www.lifewithoutlights.com
To donate:
https://www.kickstarter.com/projects/peterdicampo/life-without-lights