Targeting Schools to Reach Whole Communities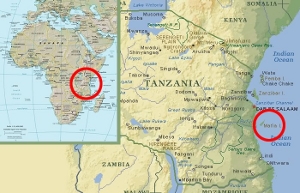 Referring to climbing fuel prices, Dr. Moody, a local doctor, businessman and resident of Mafia Island off the southeast coast of Tanzania, said "not many families can use kerosene at home now."
The majority of Mafia Island's 50,000 residents do not have access to electricity and while charcoal is widely used for cooking, lighting from kerosene lamps is fast becoming a luxury.
In October 2010, portable solar light manufacturer d.light and the NGO SolarAid responded by developing a program to help get affordable, reliable and superior quality lighting into families' homes.  Their approach involved focussing on Mafia Island's primary and secondary students, who were given the chance to own a solar powered task light at a subsidized price.
By working with Mafia Island's 11,100 school children (and thus their family members), the entire island community soon became aware of solar lighting as a cheaper, more sustainable, and better lighting option than kerosene lamps.
"To be honest we were stunned," said Claire Pederson of SolarAid, Tanzania.  "After handing out leaflets, every single headmaster on the island turned up for our initial meeting and all forty schools then placed orders for solar lamps.  Everyone was very excited."
As part of the initiative, the school headmasters received intensive training on the benefits of solar lighting and the students received instruction on how to operate and maintain the lamps.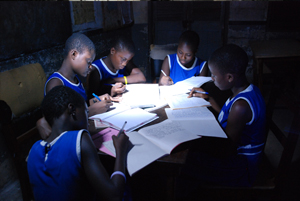 School girls studying under a solar portable lamp © Wilkens / Lighting Africa
The outreach was wildly successful: more than 3,000 task lights were sold in less than a week.
Mr. Halfani, Headmaster of Micheni Secondary school, ordered 120 solar lamps for his student body of 106.  Some students even took two lights, while others were bought by teachers at full retail price.
Mafia Island's children are now able to study at home at night.  "Since owning the solar lights, the students' performance has improved.  They are now doing better in their exams," Mr. Halfani said.
Since the schools program took place last year, demand has outstripped supply.  "People like solar products very much.  We are now waiting for a new shipment to arrive in Dar es Salaam," said Dr Moody, who is also a solar lighting distributer.
Lighting Africa supports the Tanzania Rural Energy Agency (REA) and its Lighting Rural Tanzania (LRT) grant competition.  d.light is one of 10 LRT grant competition winners, receiving funding to support its lighting initiatives.