SunnyMoney Sales Soar to Record Levels
At least One Solar Lantern Sold Every Minute in Past 12 Months
Leading distributor of clean affordable lights in Africa, SunnyMoney, sold one solar light every minute in Africa in the last 12 months, data just in shows.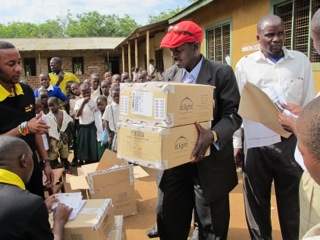 The social enterprise's CEO Steve Andrews says SunnyMoney managed to sell 532,368 lights in the 12 months ending October 2013 through a distribution model targeted at schools. This represents an increase of more than 250% over sales recorded in 2012.
"SunnyMoney's unique model of selling through schools is having a bigger impact than any of us could ever have imagined.  We've seen dramatic increases in sales since coming into the market just five years ago," says Andrews. "That a mother, father, student or teacher takes a light home, and it is switched on at night to cleanly and safely light a home means that the message is really getting out there."
SunnyMoney uses an innovative business model to sell solar lights in off-grid areas in Africa with a goal to end dependency on the costly and dangerous kerosene by 2020. It hopes to accomplish this by providing a reliable supply of affordable clean lighting products in rural villages not connected to national electricity grids.
Since launching in 2008, the distributor has sold more than 730,000 units of quality portable solar lights to off-grid families in Kenya, Tanzania, Malawi and Zambia.
There is a wide variety of solar-powered lights available in Africa priced from about $10, for study lights and torches/flashlights to just over $100 dollars for multi-room lighting systems.
SunnyMoney has found that families can save between 10 and 20 percent of their monthly income (amounting to about $78/year) by switching from using kerosene lanterns to portable solar lights.
"Our Impact research shows the money saved is spent on better nutrition, school fees, starting a business and farm inputs," says SunnyMoney's Global Marketing Director, Cindy Kerr. "A solar light not only replaces dangerous, expensive kerosene; it also lifts people out of the cycle of poverty."
SunnyMoney is one of the companies that works with Lighting Africa to expand the market for clean lights, and has received business advisory support, including market insights, from the Lighting Africa program.