Solux Vision: From Assembly to Full Production within Africa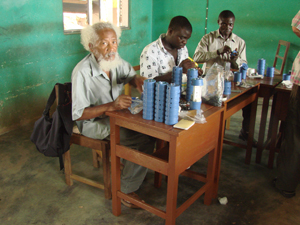 German solar lantern developer Solux Service GmbH has helped set up more than 60 solar lantern assembly workshops worldwide, most of them in Africa since 1996 in a drive to transfer knowhow and build the continent's capacity to manufacture clean modern lights locally.
Solux Service GmbH opened its most recent assembly workshops earlier this year in Burkina Faso and Togo; this was Togo's second solar lamp assembly workshop, the first having been operative since 2006.
The company, which is an Associate Member of the Lighting Africa program, plans to extend this technology transfer effort further to Senegal, where a school for solar technicians will be constructed starting December.
Solux expects to have its new lanterns assembly workshop up and running by April 2013.
Solux, which began designing portable solar lamps for off-grid communities in 1992, has two products which have passed the rigorous Lighting Global quality tests; the Solux LED-50 and the Solux LED 105.
"Since that time (1996) the major objective was to get solar lamps to off-grid people in low income countries. And working towards a more sustainable society! Solux was trying for a long time to get these lamps manufactured locally," says Franz Kies, a Director on the Solux e.V Board.
But the desire to set up manufacturing plants in countries across Africa encountered "almost insurmountable problems" related to absence of a supply chain for lamp components and the high capital investments requirements.
The company thus resorted to local assembly as the first step in the transfer of technology and technical knowhow, and in anticipation of full scale production of lanterns in Africa in future.
"So, in 1996 the first Kenyan was trained and a workshop was set up with 100 kits for local assembly as a start. Sixteen years later the workshop still exists, and has assembled thousands of solar lamps, and even supplies spare parts for Solux lamps in use in Kenya," says Mr Kies proudly.
From a one-man show this workshop has grown into a small enterprise with a whole range of solar powered products, employing 14 people, in yet another innovative business model typical of the off-grid lighting sector.
Mr Kies sees the most important step in setting up a new workshop as being extensive training for assembly staff and entrepreneurs. Solux helps to organize two weeks of initial training through a joint venture of German Government and industry.
"In this way know-how is transferred to the partner country. New technology including the working of electronic components, LED-lighting and solar energy is explained and manual skills are taught and honed. As a welcome side effect an improved quality consciousness is emerging and increased confidence in one's capabilities can be observed," he says.
Whoever takes part in this assembly training is thereafter capable of working on their own. He says this has proved to be an especially empowering experience for women, creating new skills and opening job opportunities.
In the future, Solux Service GmbH is hopeful that it will be possible to produce parts for solar lamp kits locally within Africa, to the point that full local production will be possible.