Solar Light: My Chance to Pass Exams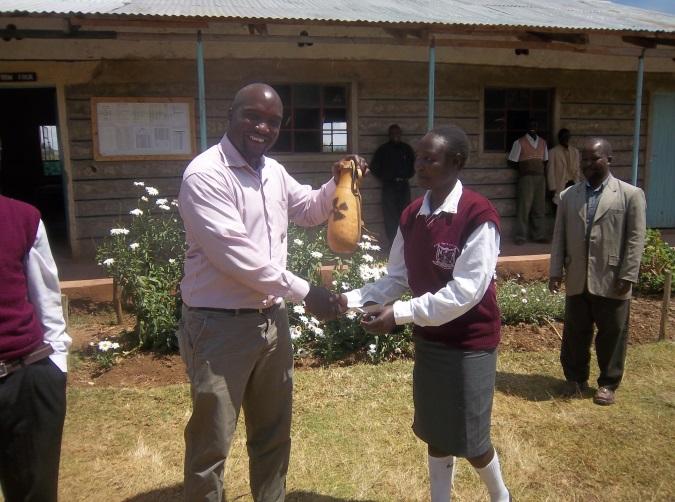 Daisy Cheruiyot is a 16-year old high school student who lost both her parents and several relatives in the 2007 post-election violence in Kenya.
Like many villagers in her Cheplelachebei East home in the infamous Burnt Forest area in Nandi Hills, she fled for her life only to return 'home' seven months later to find that what used to be her home razed to the ground.
Until recently, she lived with her aged grandmother and an elder sister, who helped care for both their grandmother and Daisy. The sister has since got married and moved on. Now Daisy has the almost impossible task of caring for herself as well as for her frail grandmother.
But despite this hardship, the silver lining in her world has been school. Being able to go to school has become Daisy's lifeline; she would like to be a teacher after graduating.
During the week, she stays in school after classes to finish her homework and study until about 9pm by the dim light of kerosene lamps provided by the school.
After school she walks some 8km back home. But this is a journey fraught with danger. Last October, Daisy was attacked by hyenas while walking back home from school. She almost lost a finger in the incident. Worse might have happened if neighbors had not come to her rescue on hearing her screams.
Upon learning of the plight of Daisy and many other students in Cheplelachebei East, the third and fourth graders at Cherry Hills Village Elementary School in Denver, Colorado went on a fundraising mission in order to supply Daisy and her classmates with solar lights. This was undertaken as part of an international creative problem solving program run in Denver's public schools.
The Cherry Hill students raised funds and bought theNokero N200 solar lights. Nokero's East Africa Sales Manager Craig Inda delivered 25 units of the solar lights to the Cheplelachebei students last month.
When receiving her light, Daisy wept in joy saying: "To you, you just gave us lights to study. To some of us, the Nokero lanterns represent safety and a chance to pass my exams and make something of my life."
Daisy is now able to get home early and study in the comfort and security of home. Her N200 solar light gives her three hours of light every evening that she dedicates to her studies. When she has late evening chores outside her home, the solar light reduces the risk of animal attacks.
As a show of appreciation for the donation of lights, Daisy, who is currently in her second year of high school, is working at scoring straight 'A's in her national secondary school exams in two years time.
"Until the donation was made, Daisy and her classmates relied entirely on kerosene lanterns for light to study. Most of her books have burn marks from kerosene lanterns. The fumes from the lanterns have also covered the classroom roof with soot," says Craig Inda.