Solar Light – "It's My Education!"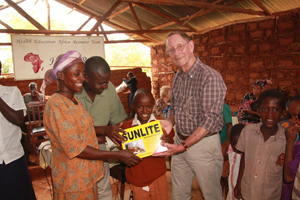 A solar lamp was held high during the town hall demonstration.
The children were then asked what they thought what it was. One child shouted from the crowd: "It's my education!"
Everyone in the room burst into laughter; But indeed, the child was right.
This was during the launch of The Solar Lamp Project by the NGO Health Education Africa Resource Team (HEART) in the coastal Taita region of Kenya in May this year.
The project is pioneering SUNLITE's solar lantern, the Solar Light. This is solar powered LED light that comes with one or two lamps and mobile phone charging kits designed to benefit both users and the environment.
"The implementation of the project will not only promote education but will also significantly reduce health risks presented by use of kerosene lamps. The solar lamps shall be employed to generate income for the 240 households set to benefit from the project," says Vickie Winkler, HEART Executive Director.
SUNLITE is an associate of the Lighting Africa program, which is catalyzing the developments of markets for high quality, affordable clean lighting products across Africa.
A SUNLITE solar lamp is held up during the project launch © HEART
HEART will demonstrate and teach community members how to use of the solar lamps for a period of six months. They will monitor and report on the impact that the solar lamps are having.
Ms Winkler said success of the project would depend on the performance of the first lantern beneficiaries, urging children to work even harder in school. She also urged the guardians to make sure the children are given the best support in order to see them succeed.
"We expect the solar lamps to not only impact the child's education, but to improve the family's livelihood," she said.