Seeding solar lighting among Kenya's maize farmers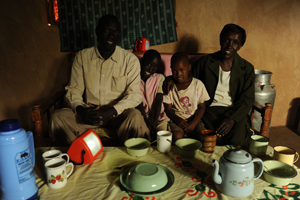 Mrs Tecla Cheruyiot is a member of the 35-strong Korosiot Women's Group in Kipkenyo, near Eldoret town in Kenya's Rift Valley.
She is one of six innovators in her village who were introduced to solar-powered lanterns barely a month ago, and heartily took up the idea.
She bought her family a d.light S250 lantern using a loan advanced by the Korosiot Women's Group, which she will repay in two months.
I would buy paraffin worth Sh20 everyday for my koroboi (open-wick) and pressure lamps but it was often only enough to see us through our evening meal; my children could not study most evenings, she told Lighting Africa.
This amount of paraffin would be shared between three or four lamps, one each for two of her children sitting national primary and secondary school exams, one for the father, and fuel-allowing, another for the mother's evening household chores.
When the paraffin ran out, they would use light either from their cell phones, a conventional flashlight, or simply light from the fireplace.
Mrs Cheruiyot, who is a maize farmer, explains that electricity can only be found 4Km away at a local school. With this apparent proximity to electricity, the community has been contemplating getting connected to the electric grid.
But the costs have proven an astronomical! KSh1.4m (USD16,667) for first acquiring a transformer for the locality, with more costs anticipated for the actual connection.
Solar lantern manufacturer and Lighting Africa Associate d.light design has been promoting its solar lanterns in Tecla Cheruyiot's home, Kimoso Village and neighboring areas, teaching the villagers how its products harness sunshine to generate clean lighting.
d.light design has also been allowing the villagers to try out its lanterns which has got the village very excited. Fifteen more women from the Korosiot chama (group) have as a result also bought themselves solar lanterns.
More have promised to buy lanterns after they harvest their maize crop and hunger is gone, she says. "Yaani (indeed), d.light cannot go without making a sale every week!"
And indeed, one man attracted by the buzz of our visit to Mrs Cheruyiot's home placed an order for a lamp on seeing how they function.
"My family and I are now doing so well!" she says. "My children can now study for as long as they wish, sometimes up to midnight or 1am, and the light is still burning".
When relying on paraffin/kerosene for lighting, her children hardly ever finished their homework in the evening, and were forced to wake up at the crack of dawn to finish their assignments.
"This solar light makes me so happy because we can do all the work we should in the evening without having to stop," she adds. "By November our village will be alight as if it has electricity".