Schneider Electric Brings Fourth Solar Lighting Product to Market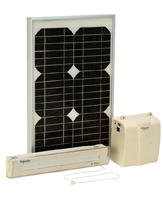 Schneider Electric has successfully tested a fourth solar lighting product which after a day of solar charging, provides bright lighting for up to 13 hours daily.
This light, the In-Diya 2 LED Solar Home Lighting System, boasts the longest run time of the four Schneider Electric off-grid lighting products so far tested by Lighting Global.
It has a single array of 21 LED bulbs which provide 250 lumens of bright lighting.
It comes with a one-year warranty on the lamp and battery backup unit, while the solar panel has a 10-year warranty.