Japanese Battery Maker Ventures into Off-Grid Solar Lighting Products
Respected Japanese battery manufacturer, GS Yuasa International Ltd, has ventured into the off-grid lighting sector producing two solar lighting products that have both meet the Lighting Global Quality Standards.
Thetwo new solar lighting products in their diversified product offerings are the Mini Moshi-Moshi and the AKARi Solar Light.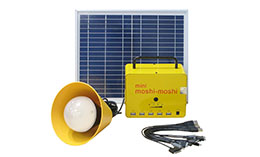 The Mini Moshi-Moshi has one LED light which provides very bright light (450 lumens) for over six hours after a single day of charging in the sun.  The product also has several mobile charging ports and comes with a set of mobile phone charging cables to enable users to power their mobile devices.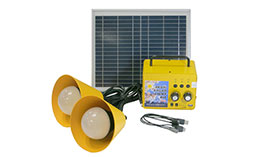 The AKARi provides two LED lights that, when used at high power, can provide very bright light (a combined 800 lumens) for nearly four hours after a single day of solar charging. Each light may be dimmed or turned on and off separately, allowing users to adjust the brightness of the lights to meet their needs or extend the runtime.  The AKARi also comes with mobile phone charging capability and a USB port.