Pilot Project Confirms Benefits of Solar Lanterns to Maternal Care in Nigeria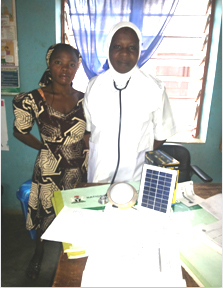 An estimated 36,000 women in Nigeria die each year during pregnancy or childbirth – equal to about 13% of maternal deaths worldwide. Numerous factors contribute to these tragic numbers, while potentially life-saving medical care is often hampered by the lack of adequate lighting after dark that plagues many rural health care centers.
Without access to grid electricity, or faced with frequent outages, midwives in these centers must use whatever light source is available to them, including candles, flashlights and kerosene lanterns to light their way through childbirth, suturing, and other minor surgical procedures after dark.
To address this major challenge, a pilot project implemented by Lighting Africa under the Nigerian State Health Investment Project delivered quality-verified solar lighting products to 36 Primary Healthcare Centers (PHCs) across three states in Nigeria. The pilot confirmed its premise that quality off-grid lighting products can serve to improve the delivery of health care services, while also raising awareness among users of solar lanterns as a durable and reliable lighting option.
Each of the 36 participating PHCs, located in the sates of Adamawa, Nasarawa, and Ondo were supplied with one Solar Home System (SHS) and two portable solar lanterns meeting Lighting Global Quality Standards, and trained on their usage. All respondents reported that the off-grid products improved the ability of the midwives to care for their patients after dark. They found that the lighting was both bright and durable enough to serve their needs throughout a night's work. The midwives also noted that the ability to charge mobile phones was very valuable as it enabled communication between staff and patients, further enhancing their ability to care for their patients.
By experiencing the benefits of these products first hand, the project also stimulated demand for these products, as approximately 100 units were sold to heath care staff in the first 6 weeks of the project, and TOTAL stations in the participating States reported an increase in demand for quality-verified products following the pilot.
If you are interested in learning more about this project, you can read the pilot study report here: Pilot Intervention in Nigeria – Health Sector.
If you are interested in incorporating off-grid lighting into your health care delivery project, please contact us at info@lightingafrica.org for more information.