One more quality lamp enters the African market: the Niwa Multi 300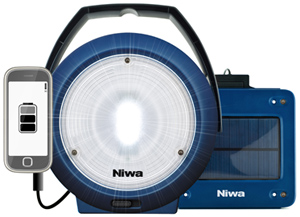 The Niwa Multi 300 (Standard) is the latest solar lamp to have passed Lighting Global's rigorous quality tests.
The Niwa Multi 300 is manufactured by Niwa – Next Energy Products Ltd., a company based in Hong Kong which endeavors to produce 'solar products with a social impact' for people off the electricity grid in Africa and India.
The lamp offers 300 Lumen of LED light with an extra bright light mode for emergency situations. It can charge mobile phones and a radio.
The Niwa Multi 300 is one of some 50 lamps that have passed the Lighting Global's minimum quality standards and met Lighting Africa's recommended performance targets