Off-Grid Solar Market Returns to Robust Growth, According to Latest Sector Report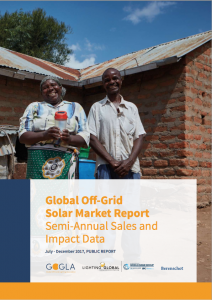 Washington DC, USA, April 27, 2018— The off-grid solar sector has returned to robust growth, reversing a brief dip in sales that was mostly due to localized shocks, according to a new report released by the World Bank Group's Lighting Global program and the Global Off-Grid Lighting Association (GOGLA).
The latest Global Off-Grid Solar Market Report shows that during the second half of 2017, participating companies reported sales of 4.14 million off-grid solar products – a jump of 18 percent compared to the first half of the year.
This generated $115 million in cash revenues for the sector, up 20 percent on the previous six months. For the first time, the report also captured the amount of solar capacity installed by participating companies: 22 megawatts between July and December 2017.
Russell Sturm, the Global Head of Energy Access at IFC, a member of the World Bank Group, says clean, affordable off-grid energy solutions are delivering crucial private sector growth in emerging economies.
"Innovation and investment are catalyzing a revolution in energy access." said Sturm. "Recent findings suggest that the market will grow by around 25 percent year-on-year, providing improved energy access to 740 million people by 2022. That's a very powerful prospect."
The quality of off-grid products has also improved. The report shows that since the start of 2016, products sold have become, in aggregate, 43 percent brighter. This enhances security while also providing students with the opportunity to study at night, or for workers to engage in income generating activities.
The number of people accessing larger systems – which can power multiple lights or appliances such as radios, fans and televisions – has also grown. Today, over two million people have access to Tier 2 energy services through off-grid solar products: 350,000 more than in the same period of 2016.
The latest edition in this series of semi-annual sales reports uses data provided by 67 GOGLA members and companies whose products meet Lighting Global quality standards. These companies represent an estimated 30 per cent of the total off-grid solar market, and have sold 34.8 million off-grid solar lighting and energy products since 2010.
Koen Peters, Executive Director of GOGLA, says methods for collecting and reporting off-grid data are being continually improved, and this latest report enables businesses to benefit from even greater market intelligence.
"With each iteration of the report series, we fine-tune our methodology," said Peters. "We're continually improving the nuances and quality of the data to make keener observations of changes to the market which underpin and influence our dynamic industry's development. This latest report supports investors,
companies, and development partners engaged in the sector with valuable insights to spur further development of the market."
#
About Lighting Global
Lighting Global is the World Bank Group's platform to support sustainable growth of the international off-grid solar market as a means of rapidly increasing energy access to the 1.1 billion people without grid electricity. Through Lighting Global, the International Finance Corporation (IFC) and the World Bank work with the Global Off-Grid Lighting Association (GOGLA), manufacturers, distributors, and other development partners to develop the modern off-grid energy market. The Lighting Global program supports market development by working with private companies to lower first-mover risk and mobilize private sector investment through market intelligence, quality assurance, business support services and consumer education.
About the World Bank Group
The World Bank Group is one of the world's largest sources of funding and knowledge for developing countries. It comprises five closely associated institutions: The International Bank for Reconstruction and Development (IBRD) and the International Development Association (IDA), which together form the World Bank; the International Finance Corporation (IFC); the Multilateral Investment Guarantee Agency (MIGA); and the International Centre for Settlement of Investment Disputes (ICSID). Each institution plays a distinct role in the mission to fight poverty and improve living standards for people in the developing world. For more information, please visit www.worldbank.org, www.miga.org, and www.ifc.org.
About GOGLA
GOGLA is the voice of the off-grid solar lighting and electrification sector. Established in 2012, GOGLA now represents over 100 members as a neutral, independent, not-for-profit industry association. Its mission is to help its members build sustainable markets, delivering quality, affordable products and services to as many households, businesses and communities as possible across the developing world. The products and solutions that GOGLA members sell transform lives. They improve health and education, create jobs and income opportunities and help consumers save money. To find out more, go to www.gogla.org.