Nokero partners with ChildFund to power Liberia's learning passion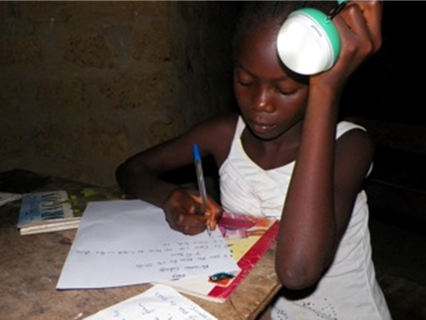 After decades of internal strife, Liberia's children and youth represent tremendous untapped potential for the country's development.
The majority of them have spent more time engaged in war than in school. For most, the sun sets every evening curtailing their eagerness to learn.
In Liberia, 97% of the population lives without electricity, and the impact on children is considerable.
In the dark of night, children do their homework and study outside – in parking lots and roadside gas stations, clustered together under any publicly lit areas.
Others read by the light of a kerosene flame, breathing in toxic smoke and soot.  Many have no light at all.
Solar lantern manufacturer, Nokero International entered into partnership with the NGO ChildFund International in April to address this lighting challenge.
Through the partnership dubbed 'Global Light to Learn Challenge', Nokero avails solar powered reading lamps to be distributed by ChildFund to schools.
Nokero (short for No Kerosene) develops affordable solar lighting products intended to replace the hazardous kerosene lanterns widely used in millions of homes across Africa.
To complement this effort, Child Fund launched an online fundraising campaign to enable it raise money to buy and distribute more solar lanterns to children in Liberia. Since April, the NGO has in this way secured about 500 reading lamps for Liberia's children.
Amelia is a smart, caring, and energetic 12-year-old girl who lives in Klay Town, Liberia without a reliable source of light. She is one of the beneficiaries of the 'Global Light to Learn Challenge'.
"I like Nokero for my study. It can save us from burning our houses. I can use Nokero to walk in the dark," Amelia says. "Nokero helps me to pass my lessons in school. I want all my friends to use it to study their lessons too."
The partnership has enabled students to study safely at home after dark, by borrowing a solar lamp from school to study at home each night, then returning it the following day. During the day, the lanterns are used to teach students about renewable energy and the power of the sun.
This initiative has improved child safety; often when kerosene proved too expensive, children would go public areas that were lit to do their homework, often returning home very late, at increased risk of violence.
In an emerging follow-on initiative that holds much promise, the two organizations are engaging Liberia's unemployed or underemployed youth in programs that improve livelihoods, and promote adoption of renewable energy solutions.
Through the 'Renewable Energy for Youth Entrepreneurs' program, ChildFund will equip the country's youth in business and entrepreneurial skills, and then set them up in solar lantern businesses.