New Studies Published on Off-Grid Lighting in West Africa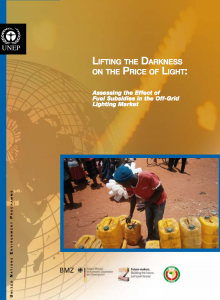 Three new studies have been published to help policy makers navigate the off-grid lighting policy process. The publications focus on West Africa where 178 million people are not connected to the electricity grid.
The first study, Life for Life: Identifying and Reducing the Health and Safety Impacts of Fuel-Based Lighting, compiles and synthesizes information on the health and safety impacts of fuel-based lighting from 112 data sources and 33 countries.
The study finds that the widespread use of fuel-based lighting in un-electrified areas is not only expensive for most of the typically low-income users, but also harmful to their health and the environment.
The author, Dr. Evan Mills, an energy and climate change research scientist at the U.S. Department of Energy's Lawrence Berkeley National Laboratory observes: "Energy efficient, off-grid lighting solutions offer the most promising and scalable means to eliminate adverse health outcomes associated with fuel-based lighting, while lowering the costs and reducing greenhouse-gas emissions."
The second study, Light and Livelihood: A Bright Outlook for Employment in the Transition from Fuel-Based Lighting to Electrical Alternatives, examines the impact of both fuel-based lighting and clean, modern off-grid lighting on employment.
It finds that kerosene distribution provides approximately 20,000 full-time jobs throughout the Economic Community of West African States (ECOWAS), but finds that that adoption of renewable energy lighting would create many more jobs.
"The potential jobs-to-population ratio for alternative technologies and associated value chains is 30 jobs per 10,000 people living off-grid, which corresponds to the possible creation of 500,000 new lighting-related jobs throughout ECOWAS," says Dr Mills.
The third study, Lifting the Darkness on the Price of Light: Assessing the Effect of Fuel Subsidies in the Off-Grid Lighting Market, explores how subsidies can impede the entry of efficient lighting technologies into off-grid markets.
The study estimates that current subsidies for kerosene are US$4 billion per year in the ECOWAS region. It concludes that subsidies on traditional lighting fuels slow the development of markets for more energy-efficient, modern lighting products and systems such as those powered by solar.
These studies were published by the United Nations Environment Program's en.lighten initiative  in conjunction with the Federal Ministry for Economic Cooperation and Development (BMZ) and the ECOWAS Centre for Renewable Energy and Energy Efficiency (ECREE).