New report: African Women Stand to Gain from Modern Off-Grid Lighting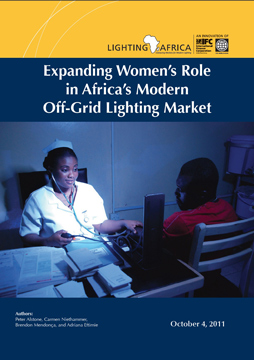 A new report from the joint IFC/World Bank Lighting Africa Program finds that women in Africa are both important beneficiaries and key facilitators of the modern off-grid lighting revolution. Affordable products utilizing technologies like micro-solar power and LEDs can replace fuel-based lighting- enabling women and men to save money, reduce indoor pollution, and operate their small enterprises with reliable, clean lighting.
The new report, Expanding Women's Role in Africa's Modern off-Grid Lighting Market, analyses women's role as both consumers and entrepreneurs and identifies women-specific opportunities in the expanding market for modern off-grid lighting.
Modern off-grid lighting products could be an immediate solution for African businesswomen who often run small retail businesses – exactly the type of businesses that benefit most from improved lighting and extended productive time.
In the household, women influence the decision 40% of the time in regards of when to buy a new lighting device and which one to get – a decision-making role that warrants attention from marketing and education campaigns.
Women and children are inordinately affected by the toxic smoke from fuel-based lamps.  The research shows that people with awareness of the issue prefer to use solar lanterns.
The report compiles the findings of extensive Lighting Africa consumer studies focused on Ethiopia, Ghana, Kenya, Tanzania, and Zambia.  Lighting Africa partnered with IFC's Women in Business (WIN) program to  author the report.  For more information, visit www.ifc.org/gender