New IFC report on the access to energy market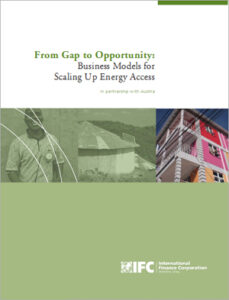 IFC just released 'From Gap to Opportunity: Business Models for Scaling Up Energy Access'. The report, published in partnership with the government of Austria, identifies a $37 billion opportunity for the private sector to improve energy services for people who live in relative poverty.
The report breaks new ground by estimating the market for energy services offered at the household level to low-income people. It also profiles companies with innovative business models and explores in detail what it takes for them to succeed.
More specifically, the report sizes the commercial opportunity for lighting, basic electricity and cooking services, and explores in depth how companies are capturing this potential around the world. With a view to scaling up market-based successes, it offers a series of recommendations for operating firms, social and commercial investors, as well as policy-makers and donors.
Download the report here.