New GOGLA-IFC Report Shows 3.77 Million Off-Grid Solar Products Were Sold in the Second Half of 2016, Despite Difficult Conditions in Key Markets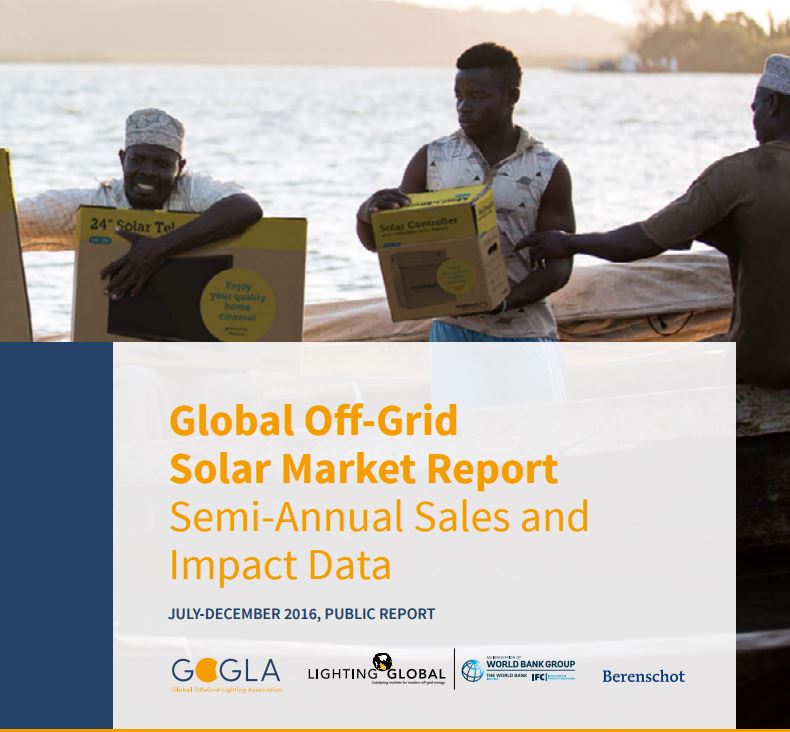 Today, Lighting Global, the World Bank Group's platform to support sustainable growth of the international off-grid solar market, and GOGLA, the Global Off-Grid Lighting Association, launched the latest Global Off-Grid Solar Market Report, which includes performance data from 55 companies and covers the period of July to December 2016.
This latest publication builds on the previous two reports (H2-2015 and H1-2016), and is the third in a series of six-month market updates co-produced by Lighting Global and GOGLA that track the swiftly evolving market for modern, clean, and affordable off-grid solar energy products worldwide. In addition to key sales figures across a range of product categories, the report also looks at important market drivers and other influencing factors—including climate, currency devaluation and market concentration—to knit together a complete picture of the latest results and current environment.
"The importance of having accurate, timely data on the off-grid solar market cannot be emphasized enough," stated Koen Peters, Executive Director of GOGLA. "The figures shown in this report, provided by the 55 companies who participated, highlight to us that there are many external developments that have strong impacts – both positive and negative – on business results. With an increasingly nuanced and complete understanding of the market, each round enables us to better tailor our calls to action to governments, investors and donors looking to support off-grid energy access, as well as to provide off-grid solar enterprises with further improved market insights to shape their global strategies."
Russell Sturm, Global Head of Energy Access at the International Finance Corporation, a member of the World Bank Group, added, "The global market is still in its relative infancy, and the industry continues to innovate at a remarkable clip. However, by definition, the industry focuses in volatile country markets, where energy access remains a fundamental challenge and resilience to factors like drought and fiscal uncertainty have an undeniable effect on the economies. While the promise remains great for the industry to drive sustainable development, it is clear that realizing this potential will require long-term commitment."
Key Figures:
At the global level, about 3.77 million products were sold in the second half of 2016.

Sub-Saharan Africa and South Asia account for approximately 1.87 million units (50%) and 1.41 million units (38%) sold, respectively.
The Middle East and North Africa region was the third largest, with a significantly lower reported number of products sold at 240,738 (6%).

Pay-As-You-Go (PAYGO) revenues are reported as US$ 41.5 million H2 2016. This includes sales revenues reported, covering deposits, top-up fees, service fees and any other revenues originating from new and existing customers. However, this amount significantly underestimates the total PAYGO revenues for the sector, as not all PAYGO companies chose to report revenues.
Social Impact Results:
To date, 110.9 million people have benefitted from off-grid solar products.
Currently, more than 85 million people are using off-grid solar lighting and electrification products.
On a global, aggregate level, more than US$ 4.9 billion has been saved to date by users of off-grid solar products, translating to an average of US$200 per household.
Key Trends:
Driven by several macro factors impacting key country markets, the total volume of product sales reported worldwide decreased by 12% from 4.30 million to 3.77 million units from H1 2016 to H2 2016.
At the global level, reported sales of products providing a single light only (with no mobile charging) have decreased in absolute terms by over 30%.
Reported sales of products providing a single light and mobile charging have stayed constant in absolute terms but have increased in proportion to sales in other product categories to now represent nearly 50% of all units sold (up from just over 41% in the last round). Over 50% of all single light and mobile charging products were sold in South Asia (dominated by India), with 30% of the total in Sub-Saharan Africa.
Sales of multi-light solar systems continued to grow, with a near 10% increase in sales. Sales in this category were dominated by East Africa, with nearly 74% of the global total.
Market Drivers for H2 2016:
Currency devaluation: Exchange rate fluctuations make it difficult for companies to plan. This is a particular challenge for companies offering consumer financing, as receivables are in local currency, while invoices are largely in hard currency.
Demonetization: In India, the demonetization that took place on November 8, where the vast majority of the country's cash was made invalid, had a major effect on the largely cash-based Indian economy.
Drought: A severe drought across eastern Africa is having devastating consequences on rural populations, with disposable income of many rural customers being severely constrained.
Import tariffs: In the East African Community (EAC), companies faced a policy change resulting in increased import tariffs on solar products and appliances. While overall sales in EAC still grew, the rate of growth was significantly slower than in previous rounds.
Concentration in the market: Concentration both on the side of manufacturers and on the demand side in the form of institutional and other large customers means that the figures reported here are subject to the volatility or "lumpiness" of individual orders.
Read the full report here.
Media Contacts:
Rahim Kanani – Lighting Global
rkanani@ifc.org
+1 202 473 8941
Anna Wells – GOGLA
a.wells@gogla.org
+44 7971 799390