New GOGLA-IFC Report Finds Over 4 Million Off-Grid Solar Products Sold In First Half Of 2016, Dynamic Global Growth Continues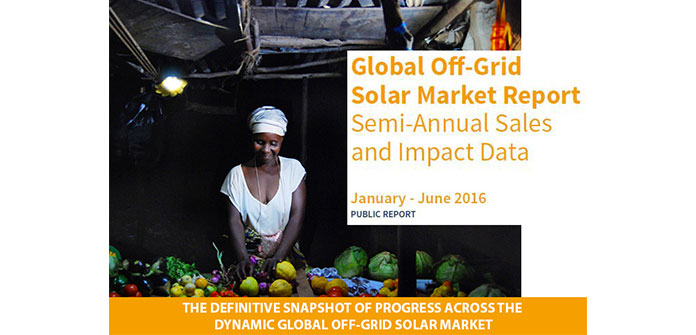 USA/Netherlands, October 14, 2016 – Today, Lighting Global, the World Bank Group's platform to support sustainable growth of the international off-grid solar market, and GOGLA, the Global Off-Grid Lighting Association, launched the latest Global Off-Grid Solar Semi-Annual Market Report, which includes performance data from 50 companies and covers the period of January to June 2016.
This effort builds on a previous report, and is the second in a series of six-month market updates that supplement the broader biennial Off-Grid Solar Market Trends Report released earlier this year. Together these reports track the groundbreaking technological advances and innovative business models that have emerged to transform the lives of millions through affordable modern solar energy services. Today's report also looks beyond numbers and into a range of market drivers to give a more complete picture of the findings.
"Together, this series provides industry members, investors and other stakeholders with the definitive snapshot of progress across the dynamic global solar off-grid market, and with it, the most comprehensive overview of the sector available anywhere," said Russell Sturm, Global Head of Energy Access at the International Finance Corporation, a member of the World Bank Group.
"With this industry evolving rapidly and becoming an increasingly organized sector, we are also improving the way we collect market intelligence. This report clearly marks another step in that direction," adds Koen Peters, Executive Director of GOGLA.
Key Market Insights:
The total volume of products sold worldwide during the first half of 2016 increased by 5%, compared to the second half of 2015 – from 4.1 million to 4.3 million.
Revenues generated through cash sales of products have increased 18% from US$118 million to US$139 million, largely attributed to a greater number of reported sales of larger products, which retail at a higher price.
Sub-Saharan Africa accounted for 45.5% of products sold (1.96 million units) and South Asia accounted for 40.9% of products sold (1.76 million units).
Within sub-Saharan Africa, East Africa represented about 70% of total sales volume in the region and 77% of revenues.
The majority of sales in South Asia were concentrated in India, where 1.72 million products were sold out of a regional 1.76 million.
Quality-verified products represented almost 80% of all sales and over 75% of all revenues from cash sales.
Globally, reported unit sales of 3-10Wp multi-light solar systems have increased five-fold from the last reporting round, while conversely, sales of 0-3Wp single light products decreased. This indicates consumer movement up the energy ladder and increased confidence with solar lighting.
Social Impact Results:                                                   
5 million people are currently living with improved energy access. And to date, 36.5 million people have been lifted from zero energy access to Tier 1, in accordance with the SE4All Global Tracking Framework.
To date, as customers moved to solar products, they collectively replaced 20.8 million harmful lighting sources including kerosene lamps, candles and battery-powered torches, saving US$4.33 billion on energy-related spending.

It is widely accepted, in the development community, that universal energy access can only be achieved through a vibrant, commercial market. The data highlighted in this report supports this thesis. We hope this market intelligence will inform key players in the sector – distributors, manufacturers, investors, as well as the development institutions that seek to support the industry – in making more informed decisions.
Read the latest report here.
Media Contacts:
 
Rahim Kanani – Lighting Global
rkanani@ifc.org
+1 202 473 8941
Sascha Brandt – GOGLA
s.brandt@gogla.org
+31 620 157 031