New family of products: fosera Pico Solar Home Systems (PSHS)
The fosera Pico Solar Home System (PSHS) product family have met the Lighting Global Quality Standards. The PSHS line of modular systems, which includes the PSHS 2800, PSHS 7000 and two other systems, are designed to power lights, mobile phones, radios and fans.
The products enable a user to connect up to four of its battery packs as they increase the number of lights and appliances to meet increasing demands for energy services in their household. As with all of fosera's lighting products, the PSHS 2800 and PSHS 7000 use an easily replaceable and long-lasting lithium iron phosphate battery.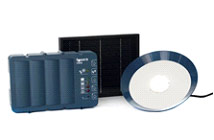 The fosera PSHS 2800 comes with a single lamp, but can power additional lamps and charge a mobile phone. With the single lamp, the PSHS 2800 provides almost 90 lumens of light for over seven hours after a full day of charging in the sun.
The fosera PSHS 7000 system comes with a single lamp that provides 170 lumens of light for over 9 hours. The system can support up to four lamps or appliances, along with a mobile phone charger, or other USB device.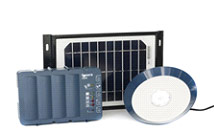 The fosera
PSHS line
is the second family of products, after Niwa's MSS family with two sub-systems of the Home Run and Office, to be tested as part of Lighting Global's new
Framework for Testing Product Component Families
.
In accordance with this policy, over half of the individual components were tested, including those incorporated in the two systems described above. The family of products has been issued a Spec Book which presents the results of these component-level tests along with a list of the four SHS kits that are now regarded to have passed the
Lighting Global Quality Standards
.
fosera has local assembly plants in Ethiopia, Kenya and India.