Multinationals make an entry into African off-grid lighting market
The phenomenal growth of sales of portable lighting products in Africa has caught the attention of multinationals such as TOTAL, Philips and Schneider Electric, and drawn them into a market that has been largely dominated by social entrepreneurs.
Oil producer and marketer TOTAL, which boasts an extensive distribution network with 3,500 retail service stations in 50 countries in Africa, aims to sell one million quality solar lanterns to low income households by 2015.
The company, which sells d.light, Greenlight Planet, and Schneider Electric solar lanterns, told delegates at the Third International Off-grid Lighting Conference and Trade Fair in Dakar, that it had sold 96,000 lanterns since March 2011 through its service stations, and an additional 15,000 lamps through its Liquefied Petroleum Gas (LPG) outlets, and solar entrepreneurs the company is nurturing.
TOTAL is implementing a Total Access to Solar (TATS) program in Burkina Faso, Cameroon, the Democratic Republic of Congo, Kenya and Senegal, with plans to start soon in Ethiopia, Nigeria and Uganda.
The entrance of such big players is widely seen as a welcome sign which will increase access to clean energy.
"Great to see!" says Derek Steel, Managing Director, Sunlite Solar. "Any entrant that puts money into marketing and awareness will help everyone in the industry."
Greenlight Planet, whose lanterns are already sold through the Total product distribution network, is also upbeat about the entry of big players in the market.
"We welcome the competition from large multinationals, as it will take a variety of products and companies to solve the problem. As of now, however, we have not seen any multinational gain significant penetration in the rural markets, so we have not been affected by their presence.
If they get better penetration, it just means more competition for the social enterprises. Still, it is a very large market, so I think there is space for many more players," says Sloane Holzman, Nuru Energy's Country Director, Kenya. Nuru Energy manufactures a unique dynamo-powered lamp.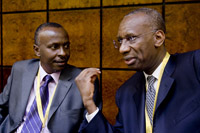 David Small, d.light's Managing Director for Africa says: "We welcome the introduction of large multinationals and believe that their involvement will only assist in firstly, the awareness of (modern clean lighting products) which is almost zero in most countries, and secondly, in accelerating the availability of much needed solar generated light to those who most need it. This gives an opportunity for social enterprises such as ourselves to work with multinationals."
Small argues the solar lighting market can still accommodate more players given penetration of solar lanterns in Africa is still less than 3%.
John Keane, Managing Director of SunnyMoney, the social enterprise of fast growing solar lights distributor, SolarAid adds: "Our goal is to eradicate the kerosene lamp from Africa by the end of this decade. We believe the only way this will be achieved is if there are more and more powerful companies and governments operating in a vibrant solar market.
As more actors enter the market, it is probably inevitable that some pioneering companies will be overtaken or bought out – but ultimately, the market will succeed, which is good news for the end user."
SunnyMoney, which has sold over 170,000 solar lights since April, is looking to partner and work with companies, governments and NGOs geared towards mass distribution of solar lights across Africa.
A few of the social enterprises are however apprehensive because they will be up against larger players who are better able to access capital cheaper, which they see as "a massively unfair advantage". Access to finance is an issue they would like urgently addressed to level the playing field.
"The entry of big players into the market is a welcome incoming tide that will lift all the boats," says Lighting Africa Program Manager Itotia Njagi. "Multinationals' activities bode well for the overall market development; they have proven experience in creating brands, as well as markets."