Lighting Global Extends Support to Solar Home System Kits
In light of the growing market demand, Lighting Global and the regional World Bank Group Lighting programs, Lighting Africa, Lighting Asia and Lighting Pacific, are now extending quality assurance testing and program support from pico-solar products to solar home system kits with power ranging up to 100 Watts.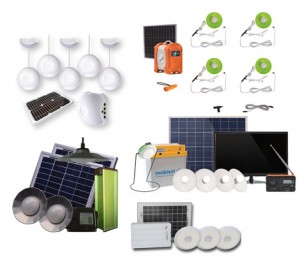 Since 2009, the programs have provided quality verification and support for small solar lanterns and solar lighting systems with power up to 10 Watts. To date, over 12 million of these quality verified products have been sold providing over 25 million people with the basic energy services of clean lighting and mobile phone charging, which constitutes the "Tier 1" level of energy access as defined by the UN Sustainable Energy for All (SE4All) Global Tracking Framework. The move to cover larger solar home system kits will now support the growing market for additional appliances, such as fans, radios, and TVs.
Significant gains in the efficiency of PV modules, LEDs, batteries, and DC appliances, along with the advent of pay-as-you-go (PAYG) technology, are now making these aspirational energy services equivalent to "Tier 2" energy access affordable for many households and small businesses who live without reliable electricity. While some of the most popular pico-solar lanterns sell for less than US$10, these larger solar home system kits range in price from approximately US$200 to over US$1000. Despite the higher price, demand for these larger kits and the expanded energy services they provide is growing. PAYG technology enables consumers to pay for a product in small increments over time, effectively reducing the up-front cost of the system and better matching the needs of a household budget.
Along with the growing market for solar home system kits comes the need for quality verification to ensure that products on the market meet consumer expectations, and minimize investment risk.
To meet these needs, the Lighting Global team, including researchers from the Schatz Energy Research Center at Humboldt State University and Fraunhofer ISE, developed a set of test methods and quality standards to assess the quality and durability of these larger solar home system kits. The test methods cover solar home systems that are sold and installed as plug-and-play kits. These kits can be installed by consumers without professional expertise, though many companies choose to provide installation and training services to enhance their product offering.
The test methods are similar to those used for pico-solar products, but include some modifications, such as an assessment of USB and 12 V ports, as well as basic appliance tests. The World Bank and Global LEAP provided funding for the development of the test methods and initial pilot testing of 10 products.
The pilot testing program is nearly finished and several products have already met the Quality Standards, including the Fosera LSHS 9800, Mobisol Family SHS – 19" TV, Omnivoltaic OvCamp HS1-144_LB2244, SolarWorks! Solar Home System, and Zimpertec Litio LS 7000-K001. The program expects several more systems to be supported in the next few months. Just as with pico-solar products, solar home system kits that meet the Quality Standards receive a Lighting Global Specifications Sheet, Verification Letter and are posted on the Lighting Global website.
In November, following the pilot test program and revision of the test methods based on stakeholder feedback, the Lighting Global team will be ready to accept new products for testing. To inquire about testing, contact shs@chief-lighting-global.clientapp.com. Tests are expected to take approximately four months. Costs will vary dependent on the test laboratory and product complexity.
In addition to quality assurance support, Lighting Global and the regional lighting programs plan to provide additional services similar to those already offered to manufacturers and distributors of pico-solar products. The programs will work with companies to tailor offerings for consumer awareness campaigns, business development support, and access to finance, all with the goal of increasing access to clean, reliable electricity.