Lighting Africa's Consumer Education Campaign wins Kenyan Marketing Award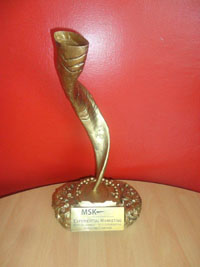 Lighting Africa's Songa Mbele na Solar (get ahead with solar) consumer education campaign has won the Marketing Society of Kenya's best experiential campaign award in the NGO/Government category.
The award recognizes marketing creativity, innovation and utilization of marketing best practice. In its evaluation, the Marketing Society of Kenya took into consideration the quality of materials and activities undertaken, the strategy, execution, creativity and results of the campaign, and its usefulness to the target audience.
Lighting Africa has been running a consumer education campaign in Kenya since 2010 as part of its efforts to catalyze markets for modern off-grid lighting products intended to replace the hazardous, polluting kerosene as a lighting source in Kenya.
Kerosene is the single most important lighting fuel used in Kenya. About 75% of all Kenyan households interviewed during the 2005/06 Kenya Integrated Household Budget Survey stated that their main lighting fuel was kerosene, followed by electricity and then collected firewood.
The switch from kerosene to cleaner, safer lighting options like solar and dynamo-charged lighting systems requires information and education on how new lighting products operate, where they can be found and their costs and benefits among the targeted consumers, who are primarily rural communities not connected to the electricity grid.
"Good products alone cannot achieve the desired behavioral change: it must also be fostered through consumer awareness and education," says Nana Asamoah Manu, Lighting Africa's program manager in Kenya.
The campaign runs a variety of activities including road shows and community forums, and engages with religious groups, women groups and Savings and Credit Cooperative organizations to explain the health, cost and environmental benefits of modern solar-powered lights over kerosene.
It also educates consumers on how to distinguish between sub-standard and quality-assured solar lamps. These messages are reinforced through interviews on local vernacular radio shows.
To date, Songa Mbele na Solar campaign has run over 1,100 community forums and 190 road shows all over Kenya reaching over 260,000 people in rural areas.
Typically, a consumer education day entails two forums, with community groups of 20-30 people, for an hour of skits, songs, instruction, question and answer sessions, and experimentation with products.
In the evening, tied to market days, the Lighting Africa team organizes a road show, which attracts large crowds, usually of about 500 people. A truck stationed at a vantage point like the centre or market square plays loud music and attracts crowds for 3-4 hours of edutainment. This kind of face to face engagement with consumers is referred to as experiential marketing.
Feedback from these sessions indicates that on average over 90% of participants increase their knowledge on clean solar lighting products, and that they would like to switch to them.
Lighting Africa's consumer education campaign is informed by solid market research: its 2010 market report titled Solar Lighting for the Base of the Pyramid – Overview of an Emerging Market showed that lack of consumer awareness about alternatives to kerosene lighting was the main barrier to market growth for clean off-grid lighting products.
The report also revealed that for consumers without access to electricity, clean lighting products are more than a commodity; the lamps are also aspirational status-enhancing products. This informed our campaign slogan "Songa Mbele na Solar", or get ahead with solar.
The campaign is implemented by EXP Kenya, a leading agency in experiential campaigns. The company's ability to receive and incorporate feedback from Lighting Africa, its partners and consumers has been critical to the campaign's success.