Lighting Africa illuminates 2.5 million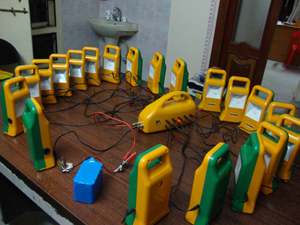 2.5 million people in Africa have embraced the clean, safer solar energy for lighting their homes and businesses in the past three years abandoning the expensive, hazardous and inefficient kerosene.
But a lot still remains to be done. The 2.5 million people with better lighting represent only 0.4 percent of Africa's unlit population that is not connected to national electricity grids.
The IFC head of the Lighting Africa program Itotia Njagi describes the number of people reached with clean lighting so far as a 'remarkable achievement'.
"However, considering that most people in Africa rely on kerosene clearly underscores the magnitude of the clean lighting challenge, and the additional players needed to scale up clean energy in Africa," he says. "Everyone has a role to play."
Since its establishment in September 2007, the Lighting Africa program has undertaken a number of activities including developing quality standards and raising awareness catalyzing interest in modern solar lighting products among consumers, manufacturers and distributors.
This has to date resulted in 500,000 high quality solar lamps being sold in Africa.
Solar lighting products, designed to displace kerosene and other inefficient, polluting fuels, can save families considerable amounts of money, improve school performance and unlock the rural entrepreneurial spirit through increased productive economic hours per day.
The program's main challenge has mobilizing financing for the entire solar lighting products' supply chain.