'Library' of Solar Lights puts pico-PV in the hands of approximately 55,000 rural Senegalese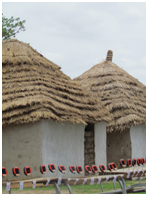 Students in 58 selected rural schools in Senegal were introduced to a different kind of library — a luminothèque – or library of solar lights, thanks to SunnyMoney's innovative new Light Library model. These libraries allowed students to borrow solar lanterns, so they, along with their families, could experience first hand the benefits of studying after dark using a clean, safe, affordable lighting source.
The schools that received the Light Libraries were chosen based on their lack of electricity, the relatively large student body, and the regions' high poverty rate, so as to maximize impact. All were in the regions of Kaolack and Kaffrine where prior to the project only 3% of the population owned a solar light, and only 20% had ever even heard of them.
The objectives of the Light Library project, designed and delivered by UK charity SolarAid's social enterprise SunnyMoney, in partnership with the Senegalese Rural Electrification Agency (ASER) and the Ministry of Education, and funded by Lighting Africa, were to increase awareness of and access to solar lights in off-grid rural areas, in order to support strategies to increase demand and uptake.
In all, 4,798 lights were made available to the Ministry of Education and managed by the schools, giving 6,115 students direct access to the lights. Due to the large average family size in the regions, this means that approximately 55,000 people were directly exposed to the technology.
"It is not safe to buy something you don't know," Aliou Ba, father of 5 school children in the Kaolack region in Senegal, part of a household of 22 people
By creating a low-risk opportunity to test out solar lights, the libraries addressed a common risk-aversion tendency, as expressed by Aliou Ba. Furthermore, the families were able to save the money they would have otherwise spent on alternative lighting sources (most commonly batteries for torches) while trying out the lights at home, providing them with a small fund with which to purchase their own solar light.
"Our average solar light customer will recoup the money spent on their solar light through savings on reducing expenditure on kerosene, candles or batteries within 10 weeks." Kat Harrison Director of Research & Impact at SolarAid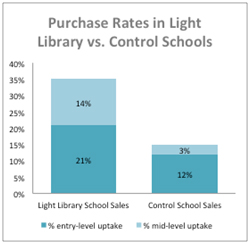 Most striking of all was the impact that these lantern libraries had on commercial sales. Following a period to try out the lamps, 35% of families in the Lantern Library regions purchased lanterns (including a remarkable 14% who bough mid-range products that included phone charging capabilities). In contrast control communities with a similar profile in Senegal only had a 15% uptake rate, while in east Africa typical uptake stands at about 10%.
"My children are studying for longer now because other lighting products would not allow them to study for a long time. I am no longer buying batteries for them. It is a very good initiative, we are very grateful." Bourry Sarr, Nioro, Kaolack.
You can learn more about the project in SunnyMoney's Light Library guide.