Kiprotich brings Gold to Uganda, Barefoot Power brings clean light to his village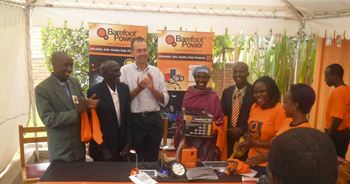 Barefoot Power Uganda, a subsidiary of Barefoot Power Pty Ltd  has launched the 'Barefoot Light Up a Village' program in Cheptilyal, Kapchorwa District in Uganda. Cheptilyal is home to Stephen Kiprotich, gold medal marathon winner in the 2012 London summer Olympics.
Upon returning home after the Olympics, Uganda celebrated Kiprotich for bringing home the first gold medal in 40 years. And Barefoot Power presented his parents with a owaPack 5W  home lighting system and to motivate more youth to work hard to realize their dreams.
Barefoot Power Uganda launched their 'Light Up a Village' program in Cheptilyal, where the project will light up the trading centre, a primary school, a health centre and 100 homes, bringing healthy, safe light and phone charging solutions to this remote community.
"The Light Up a Village program is a simple and cost effective way to provide clean light to off-grid rural communities", notes Barefoot Uganda's Sales and Marketing Manager, Anne Kayiwa Kagwa.
"Communities have always been there to support each other in times of hardship, and so during times of joy (Kiprotich bringing home the Gold), they should be able to enjoy the fruits of raising one great son of the soil," she adds.
Barefoot Power is an Associate company of the Lighting Africa program.
More than 80 percent of Ugandans live without electricity relying on candles, kerosene lamps, grass, and wood for lighting. These alternatives are expensive as well as dangerous because they expose families to fire hazards, and respiratory diseases.
The supply of clean alternative sources of energy is however unreliable and expensive.
The 'Light Up a Village' program offers a turnkey solution for rural communities to access renewable energy lighting for their homes.
Barefoot is making its Firefly and PowaPack solar lighting products, which can also charge phones, available to as many homes as possible. It will also light up public utilities such as clinics and schools with Barefoot Village Kits.
The company will also facilitate the set up of businesses to extend the reach of modern, off-grid lights throughout the country. It will forge partnerships with local financial institutions and community leaders, and train entrepreneurs to service and maintain the solar lighting products.
Barefoot Power has reached more than 2 million people around the globe with their solar Firefly, PowaPack and Village Kit lighting and phone charging solutions.
The new 'Light Up a Village' program will help the company meet its target of reaching 10 million by 2015.
To find out more about this program, or how you can partner with Barefoot Power across the globe, send an email to info@barefootpower.com.