Kenya: Consumers want more from off-grid lighting products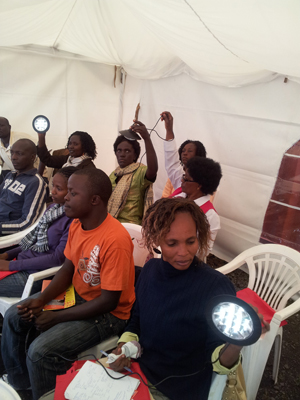 Rural communities without electricity in Kenya are increasingly using modern products to light up their homes and businesses, as a result of enhanced consumer awareness on the advantages of using clean energy such as solar lighting, and due to increased availability of quality-assured, affordable lighting products.
In the last four years, the joint IFC/World Bank Lighting Africa program has catalyzed a vibrant market that has enabled production, distribution and marketing of quality-assured solar lamps across Kenya.
Lighting Africa has also undertaken extensive consumer education campaigns in Kenya staging hundreds of road shows, product discussion forums, and radio campaigns to create consumer awareness of, and consumer knowledge on the use of new, clean lighting products, and their advantages over the widely used polluting kerosene lamps.
Consumer surveys undertaken this year are revealing distinctly evolving consumer needs and preferences; now more rural families would like to light up their entire homes, not just one room at a time, using modern solar home lighting systems.
"Consumers seemed to have a preference towards lanterns which can be used to power multiple rooms. However, their higher prices are still a concern," says a May 2012 Lighting Africa consumer report.
The latest survey found that most consumers see hire purchase as the best option for acquiring multi-room home lighting systems, and expressed a desire for hire purchase arrangements with dealers and retailers in their respective home areas.
Currently, Kenya has more than 20 quality-tested solar lighting products retailing countrywide. Most of these are versatile portable solar lamps that easily double up as torches, and can be used in a number of ways such as desk or study lamps, or hung on ceilings or walls to light entire rooms.
Of these, only four are multiple-room lighting products.
The survey also found that consumers prefer lanterns that can provide more than just lighting; solar lighting kits that can also charge mobile phones, for example, are rated highly by consumers.
The survey also captured consumer preference for lanterns with "strong, bright" lights, and consumer concerns on effectiveness of product warranties.
"Some consumers reported that the one year warrant is not working. When consumers experience challenges with the solar lanterns, they are never assisted as stated in the warranty," says the May consumer report.
Lighting Africa market reports have documented tremendous growth, an average of 75 – 85% per year, in the Kenyan modern off-grid lighting market over the last two years.
The Lighting Africa program has also been at the heart of developing and rolling out quality standards and quality assurance for this new and growing off-grid lighting sector, rebuilding confidence in the off-grid lighting market.