Job Scam Alert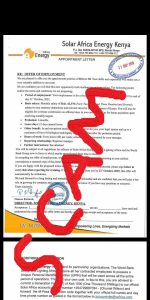 International Finance Corporation ("IFC") and The INTERNATIONAL BANK FOR RECONSTRUCTION AND DEVELOPMENT ("World Bank") (jointly the "World Bank Group") have been made aware that various individuals or organizations are posting false job advertisements in the media and offering fraudulent letters of appointment on behalf of IFC, the World Bank, and/or the World Bank Group Lighting Africa program, including through a so-called organization "Solar Africa Energy Kenya."  Please note that the World Bank, IFC, and/or Lighting Africa are not behind this scheme and have no affiliation or connection of any kind whatsoever with these alleged offers of employment. The World Bank Group does NOT request applicants to pay any of its entities as a condition of employment.
 Further, the World Bank Group will not be held responsible or obligated to honor any expectation from false offers. Similarly the World Bank Group will not be held responsible for any refunds of fees solicited by fraudsters purporting to act on its behalf. We consider the unauthorized use of our company name or the names of our employees to be a crime and are working with the Authorities to investigate and resolve this issue.
Members of the public are requested to report any form of misconduct, and suspicious vacancy announcement using IFC, the World Bank, or Lighting Africa name, or other suspected fraud, please contact africarecruitmentfraud@ifc.org or  ethics_helpline@worldbank.org.