Inclusive Business Solutions: Expanding Opportunity and Access at the Base of the Pyramid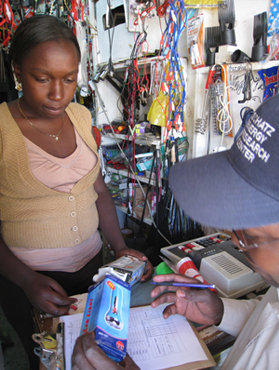 IFC's new report, Inclusive Business Solutions: Expanding Opportunity and Access at the Base of the Pyramid, outlines IFC's business solutions that are designed to facilitate new opportunities for innovation, growth and competitiveness at the base of the pyramid (BoP).
Too often, people living at the BoP are unable to access key services and, when they can, they are often unaffordable and of insufficient quality to meet every day needs.  For example, it may be difficult for people to acquire steady jobs; attract business opportunities; secure a reliable source of clean water and electrical power; access modern communications; and receive healthcare, educational opportunities, or financial services.  Moreover, in the absence of efficient, formal markets, people often have to pay more for such services than those residing at higher levels of the economic pyramid, a phenomenon known as the poverty penalty.
Around the world, IFC clients are filling this gap through inclusive business models – offering goods, services, and livelihoods to the BoP with the (non-conventional) recognition that they are key players and viable entrepreneurs in the global commercial marketplace and supply chain mechanics- as consumers, producers, distributors, and retailers.
In fiscal year 2009 alone, IFC committed $780 million to more than 35 clients that were implementing inclusive business models around the world. Now, there are more than 150 active clients with inclusive business models in IFC's portfolio, and growing- as fast as the realization of the BoP as a critical vehicle to stimulate development.
The inclusive business solutions report serves as part of a broader effort to stimulate the flows of information and inspiration to other IFC clientsthat could greatly benefit from the incorporation of inclusive business into their mainstream operations, and to further support those implementing inclusive business models to achieve scale -faster and with even better results- a win-win value proposition for the private sector and the poor.
Read the Inclusive Business Solutions Report