IFC/World Bank Set Global Standard for Clean Off-Grid Lighting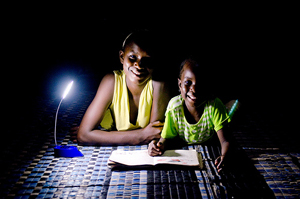 The IFC/World Bank-supported Lighting Global Quality Test Methodology has become the world standard for clean off-grid lighting products, following its incorporation into an International Electrotechnical Commission (IEC) technical specification on 3 April, 2013.
Off-grid lighting products, many of which are solar-powered, are typically designed for rural communities without access to electricity in developing countries. About 600 million people in Africa, mostly in rural areas, do not have access to electricity and use polluting, expensive and dangerous fuels such as kerosene and batteries for their lighting needs.
"The IEC document that includes our Lighting Global test methods and quality assurance standards framework has been officially published," says Dr Arne Jacobson, Technical Lead for the Lighting Global quality assurance work. "This is very good news. The document is an important step in our effort to institutionalize the quality assurance framework for off-grid lighting that we have worked so hard to develop."
Lighting Global has been working with the U.S. Department of Energy for the last 15 months to
institutionalize its test methods and quality metrics through the IEC.
A global standard for modern, portable lighting products will make clean lighting more accessible to low income households by laying the foundation for a common framework for quality assurance that can be applied across multiple markets. Product manufactures benefit because they only need to qualify their products once to reach a broad market, which reduces costs, and consumers benefit through reduced prices for quality assured products.
With the IEC standard, it is also expected that more manufacturers will design products to these specifications and more governments will adopt the standards. This recognition will allow public procurements to target products that meet the IEC standard, all of which will put better quality products in the hands of end consumers.
"The importance of this achievement becomes clearer and clearer to me with every conversation I have with testing labs, government officials and companies about the issue of addressing quality and scaling the off-grid lighting market," says Russell Sturm, Head, Energy Access, IFC Advisory Services. "IEC is the reference point for the world on matters of industrial norms. The impact of this publication is profound and will be long-term."
The Lighting Global quality assurance framework was originally developed by Lighting Africa, an IFC/World Bank program to counter market spoilage arising from an influx of products of unknown quality that was beginning to undermine consumer and investor confidence.
As the program evolved, it became clear that the need for quality standards for portable, off-grid lighting products extended to other regions, driving Lighting Africa to expand its quality assurance work globally through the Lighting Global Quality Assurance program. Lighting Global currently supports the Lighting Africa and Lighting Asia programs.
Lighting Global develops and implements quality standards through laboratories in Africa, Asia, Europe, and the U.S. It has tested over 100 off-grid lighting products, of which 46 have met quality and performance standards and are on sale and in use across Africa and Asia.