Freeplay's Solar Lighting Product Meets Lighting Global Quality Standards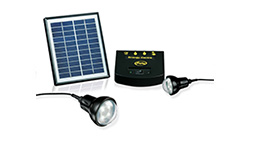 Freeplay Energy –designer and manufacturer of clean energy products for off-grid families, has released a new solar lighting product which meets the Lighting Global Quality Standards.
The Solar Energy Centre comes with two bright LED bulbs and has a USB port to enable charging a mobile phone or other device.  With both bulbs on, the system can brightly light a room for over six hours after a single day of solar charging.
Each bulb comes with a five meter-long cable such that the product can be installed to simultaneously light more than one room in a home.
Freeplay is a subsidiary of EuroSuisse International, a Hong Kong-based supplier of home appliances.