Fosera Establishes Assembly Line in Mozambique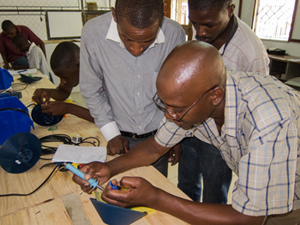 German producer of affordable, high-tech modular solar home lighting systems – Fosera GmbH has started a  commercial assembly line for its solar lights in Maputo, Mozambique.
The design, implementation and start up of the assembly line were undertaken in partnership with the University of Maputo and the University of Ulm/Neu-Ulm. Production kicked off in October 2012.
"With this assembly line we have so far empowered more then 4.000 families with modern clean light, but also created seven jobs, and a little bit of sustainable economy in Mozambique," says Catherine Adelmann, Fosera's General Manager.
As part of the start-up, the solar manufacturer has trained some 15 people equipping them with the technical and managerial skills needed to successfully run a Pico Solar Home System assembly line.
"The local assembly line in Maputo enables Fosera to better serve the Mozambican market with our high quality solar products," adds Ms Adelmann.
The company has also contracted three distributors and five entrepreneurs to supply and service its products in different parts of the country.
Fosera was founded in 2010 in Germany and has subsidiaries in Thailand and India with full production lines.
The company has set its eyes on international expansion through establishment of additional local assembly lines in its key markets in the future, thereby increasing the positive impact on local societies and economies by means of technology transfer, know how training, job creation and carbon dioxide emission reduction.
Their Pico Solar Home System is designed for rural and suburban villages without access to electricity. The system, which has passed the rigorous Lighting Global quality testing, provides reliable, clean and inexpensive power for lighting, cell phone charging, communication and entertainment.